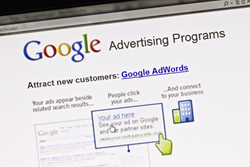 Google AdWords is a great tool for small business owners to use to target their ad budget only to customers who are searching for their product/service.
(PRWEB) July 14, 2014
GetUWired, a full-service Internet marketing company located in scenic Dahlonega, Ga., has just released an informative blog titled, "Google AdWords: 101 – A Beginner's Guide." The blog can be viewed here.
This blog explains the basics of Google AdWords for people just beginning the process of CPC advertising.
Google AdWords allows small business owners to spend their advertising budget only on people they know want products like theirs. For small business owners with a limited ad budget, Google AdWords can be a very helpful tool.
What Is an AdWords Ad?
Google AdWords ads pop up on the sides and top of Google search results. The ones that appear at the top of the search results will have a small "ad" icon in them, and the ones that appear to the right of the search results will have an "ad" icon above the entire column.
How to Get Started with Google AdWords
The first step to using Google AdWords is to set up an account. The signup process is pretty self-explanatory. Make sure to have a business credit card on hand during the setup process to pay for the ads.
Setting up Campaigns
AdWords ads are grouped into Campaigns and then split into subsections called Ad Groups. Each Ad Group contains multiple ads and can contain multiple keywords.
Campaigns can be set to show ads on display networks (with graphics) or search networks (text only) or both.
In the "devices" section, users can choose to show their ads on mobile devices, PCs, or both.
In the "locations" tab, users can choose to show their ads only to certain countries, states, cities or even ZIP codes.
Under "Ad Extensions," users can add things like a phone number, address (location), links or reviews to the ad at no additional cost.
The Budget
There are two parts to an AdWords budget: bids and daily budget. The "bid" is the maximum amount of money the user will pay each time someone clicks on their ad. The daily budget is the maximum amount the user is willing to spend each day on their ads.
Writing Ads
AdWords doesn't allow much space to convey the message, so brevity is key. With just 25 characters for the headline and two body text lines of just 35 characters a piece, it's critical to write a legible ad that is both engaging and informative to get users to click on it. The keyword should be in the headline and in the body so that the ad shows up when a user searches for that term.
Tracking Results
New campaigns should be given some time in action before results can be tracked. Three to four weeks will allow the account to accrue enough information to make tracking worthwhile. AdWords will show how many clicks, impressions and conversions each ad has received. Users can also look at the average cost per click and the total cost for each ad.
What to Do with the Results
Then, it's time to optimize. See what keywords are performing best and which ads are not performing. Delete poorly performing ads and split test top-performing ads for even better results.
Don't Have Time to Maintain an AdWords Account?
GetUWired's CPC AdWords expert Johnathon VandenHeuvel is here to help! With his expertise, he can make sure any AdWords account is set up properly and regularly monitored to keep it at peak performance. Or, for those who would like to learn to do it themselves, he also offers one-on-one AdWords training. Give Johnathon a call at 877-236-9094 today to get started or visit http://www.GetUWired.us.