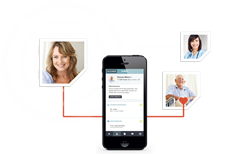 Being able to connect with family members and share information regarding a loved ones' care can only lead to more personalized and robust care outcomes.
Ontario (PRWEB) July 14, 2014
Carepoint has been designed specifically to facilitate a new dimension in caregiving by combining an intuitive interface for recording, sending, displaying and receiving client care information with robust service tracking and reporting features.
Hall mc - an Ontario-based marketing communications company - has teamed up with Rebecca de Witte to create this exciting new communications application for home healthcare organizations.
Carepoint provides seamless, real-time communication between the healthcare organization, the home healthcare worker and the client's family by providing them with a simple way to record, track and communicate all aspects of a client's care regimen.
More importantly, it introduces an entirely new dynamic to client care by allowing client family members or guardians to monitor – and contribute to – their loved one's care experience.
Simon Hall – head of special projects at Hall mc – had this to say: "In developing CarePoint we were able to combine our knowledge of the health care industry with our deep in-house programming expertise and passion for engaging interface design. What makes CarePoint especially exciting is that it is the result of our collaboration with Rebecca de Witte: a knowledgeable, insightful and highly experienced health care professional".
Rebecca de Witte adds, "Most of us who work in home healthcare are frustrated by the fragmented communication methods we have to deal with on a day-to-day basis. Being able to connect with family members and share information regarding a loved ones' care can only lead to more personalized and robust care outcomes. CarePoint provides that seamless channel of communication, and combines it with a great set of reporting features that make it a real asset to those who administer and receive home care."
For more information on Carepoint, please contact Rebecca de Witte at 226-268-0074