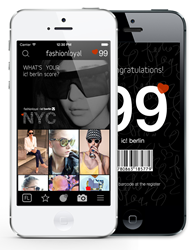 New York, NY (PRWEB) July 15, 2014
What's your brand score? Starting today for immediate download, the FashionLoyal app will offer global fashion fans and brands, a platform to engage in social currency.
See a cool brand image. Share it. Shop it.
Build a real time score for each of your favorite brands. Start by sharing FashionLoyal images to your social networks. Then shop, discover, and upload amazing content of your own. Scores fluctuate from 1 to 99 so users must maintain positive actions to reach and keep higher scores. Brands recognize their most active fans and unlock mobile perks that range from barcodes for retail locations, online codes, private events, special sales, and product giveaways.
The FashionLoyal experience is a fusion of editorial gamification and shoppable showroom. FashionLoyal's curated gallery is a hand-picked feed of featured brands, fashionistas, and industry influencers. The My Designers gallery is a custom feed of your favorites. Visit an individual designer gallery to discover the latest products and exclusive rewards.
Finally, a meticulously curated app that allows fans to be recognized and rewarded by the brands they love.
"FashionLoyal nails it. This concept is a balanced integration of consumer and brand within a social community focused on user generated fashion content and aimed at driving e-commerce sales. This is an innovative vision for the next evolution of e-commerce and m-commerce," says Salima Popatia, VP of e-commerce at Luxottica Group.
Tanja Weindling, GM of global high fashion eyewear brand ic! berlin is such a fan that she created an exclusive ic! berlin x FashionLoyal branded collection of luxury sunglasses to reward select users who reach 99. "I want fans to have fun while at the same time pushing a business agenda."
"At FashionLoyal, it is our goal to be the standard in which brands measure loyalty. Making it a fun mobile experience will be gratification for a massive demographic that includes fashion obsessives and casual fans alike," said Sai Kong, FashionLoyal's Founder and CEO. "FashionLoyal hits that rare combination of cool and business friendly – exactly what's required of brands to be in customers back pockets."
Availability
FashionLoyal is free to use and is available on iPhone, iPod Touch and iPad. Desktop users can visit online at FashionLoyal.com. Brands not already on FashionLoyal can request to be added to the platform by contacting brands(at)fashionloyal(dot)com.
FashionLoyal Inc., a New York City mobile company, employs technology to deliver instant gratification to a global audience and their favorite brands. FashionLoyal was founded in 2012 by Creative Director Sai Kong. To learn more about FashionLoyal and see images of the app, visit FashionLoyal.com
Press Contact
All press inquiries, including interview requests, product reviews, images, and quotes should be directed to press(at)fashionloyal(dot)com.
All trademarks and product names are the property of their respective companies.