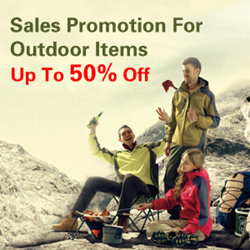 (PRWEB) July 13, 2014
Today, Fecbek.com, a famous outdoor accessories manufacturer and retailer, has excitedly unveiled its new selections of outdoor accessories. All its attractive and amazing outdoor accessories are offered at discounted prices.
"From tents to tables, we are devoted to offering a great range of accessories and supplies for your outdoor activities. We stock all kinds of outdoor accessories for cooking, sitting, sleeping and much more. If you have any question or need more details, please don't hesitate to contact us," The spokesman for the company says.
What kinds of outdoor activities do people like? Is it backpacking, canoeing, caving, climbing, hiking, hill walking, hunting, kayaking, or rafting? Now, Fecbek.com is offering its customers a vast range of outdoor accessories. To find out more, please visit http://www.fecbek.com/outdoors/.
Everyone is welcome to visit the newly updated website; there, she or he can read the newly-posted articles as well as shop for top-quality outdoor accessories.
About Fecbek.com
Fecbek.com is a leading online retail and wholesale store specializing in selling clothing, shoes, bags, wedding and occasion dresses, Cosplay, costumes and beauty products. With a wide selection of products at a low price, the company has been universally recognized for honesty, high efficiency and thoughtful services; it has built a long-term relationship with many customers.
For more information, please visit http://www.fecbek.com.