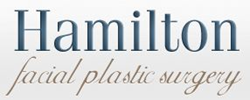 Indianapolis, IN (PRWEB) July 15, 2014
In an effort to meet the evolving needs of patients, Hamilton Facial Plastic Surgery has unrolled a new, responsive website. Launched in May, the site is 'retina-ready', meticulously designed to look sharp and clear on any Retina-Display device. This innovative WordPress platform makes it easy to view Dr. Hamilton's site from any computer, smartphone, or tablet.
Hamilton Facial Plastic Surgery (HFPS) is excited to share this new tool with potential clients, as well as their established patients. The website features tabs on the staff, each surgical and noninvasive treatment, before/after photographs, patient resources, and HFPS in the media. Moreover, the redesigned site is now a great place for patients to see current specials.
Opening in 2003, HFPS has become the cornerstone for aesthetic care in Indiana. The practice offers a wide range of rejuvenating procedures for the face and neck, including Blepharoplasty, Rhinoplasty, Neck Lifts, various injectables, and professional grade skincare. The staff's deep passion for cosmetic enhancement is evident both online and in the office. Dr. Hamilton happily shares his love of the specialty, "I thoroughly enjoy what I do and believe this is reflected in my practice."
A native of Indianapolis, Dr. Mark Hamilton has been providing expert cosmetic procedure in the area for over 10 years. He is Double Board Certified by both the American Board of Otolaryngology and the American Board of Facial Plastic and Reconstructive Surgery. Dr. Hamilton is a leader in the field of plastic surgery and currently sits on the Board of Directors at the Indiana Medical Society.
Peruse the groundbreaking Hamilton Facial Plastic Surgery responsive website at http://www.hamiltonfps.com. If you have any questions or comments, or would like to set up a consultation appointment, call the office at 317.859.3810. Dr. Hamilton has two offices conveniently located in Indianapolis and Carmel, Indiana.
Contact:
Hamilton Facial Plastic Surgery
533. East County Line Road
Suite 104
Indianapolis, Indiana 46143
317.859.3810
http://www.hamiltonfps.com