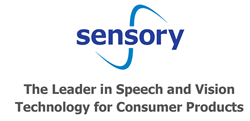 "The term 'world-class' truly defines our technology for the diversity of languages and international regions that it supports, and our continued investment in resources to develop and expand these language offerings."
Santa Clara, CA (PRWEB) July 16, 2014
Sensory Inc., the industry leader in speech and vision technologies for consumer products, is pleased to announce that it supports a wide range of languages across 41 countries all over the world with its innovative speech recognition solutions.
Languages currently supported by Sensory's speaker recognition technologies include the world's three most highly spoken—Mandarin (2 billion speakers) Spanish (406 million speakers) and English (335 million speakers). Other languages developed for Sensory's platforms include: French, German, Italian, Japanese, Korean, Dutch, Russian, Arabic, Turkish, Swedish, and Portuguese. Nearly all of the languages available in Sensory's speech recognition solutions are also supported in its speaker verification technologies, including Mandarin Chinese.
Among its products in multiple languages is Sensory's landmark TrulyHandsfree™, the leading always-on, always-listening voice control solution for consumer electronics. The introduction of the TrulyHandsfree™ Voice Control technology revolutionized the speech technology industry for a wide variety of hands-free consumer applications. With an extremely noise robust and accurate solution that responds quickly and at ultra-low power consumption, theTrulyHandsfree™ trigger technology has become the most widely adopted keyword spotting technology in the speech industry.
Sensory's staff of world-renowned speech experts and linguists is continuing to expand the company's language and country support. Languages currently in development include Indian English, Polish, Greek, and Cantonese, with others soon to be added.
"We are committed to providing the most innovative global speech and speaker solutions for deployment in consumer electronic applications," stated Sensory CEO Todd Mozer. "The term 'world-class' truly defines our technology for the diversity of languages and international regions that it supports, and our continued investment in resources to develop and expand these language offerings."
About Sensory, Inc.
Sensory, Inc. is the leader in UX technologies for consumer products, offering a complete line of IC and software-only solutions for speech recognition, speech synthesis, speaker verification, vision and more. Sensory's products are widely deployed in consumer electronics applications including mobile, automotive, wearables, toys, and various home electronics. With its TrulyHandsfree™ voice control, Sensory has set the standard for mobile handset platforms' ultra-low power "always listening" touchless control. To date, Sensory's technologies have shipped in over half a billion units of leading consumer products. Visit Sensory at http://www.sensoryinc.com
TrulyHandsfree is a trademark of Sensory, Inc.
For more information, contact: Shirley Ng sng@sensoryinc.com