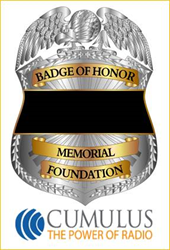 " We are all extremely grateful for the heartfelt support demonstrated by Cumulus Media during this campaign. The way they threw their support behind us was truly wonderful." Asst. Chief Gary D. Stiles, Chairman, BOHMF
Washington, DC (PRWEB) July 16, 2014
At all levels, law enforcement agencies across America are protecting our values, beliefs, and traditions. There are over 900,000 law enforcement officers defending America every day. The American way of life across our states, cities, counties, and along our borders is dependent upon the bravery and commitment of these valued men and women who protect our communities, our businesses, and our lives.
Fraught with danger, any given moment of a police officer's day may prove fatal. Sobering statistics cite that a police officer is killed in the line of duty approximately every 53 hours.
The Badge of Honor Memorial Foundation is a 501(c)3 organization that helps families who are enduring personal hardship as a result of a law enforcement officer's death and the departments that the officers were representing when they were killed. The Foundation acts as a "watchdog" organization for the widows and children of these fallen police officers, assuring they receive the statutory benefits due them. Our mission is accomplished through the education of law enforcement organizations nationwide, but it also includes free legal assistance for families whenever necessary.
An excellent example of the work that Badge of Honor Memorial Foundation performs is in coming to the rescue of law enforcement departments and the families of fallen officers when they have nowhere else to turn.
In 2012 a law enforcement officer suffered a heart attack and passed away after his shift, having had a traumatic experience on duty that day. The family was faced with insolvency, unaware of any available benefit. The Badge of Honor Memorial Foundation received a call for help from the agency the officer worked for, and then went to work on behalf of the family. Earlier this year, that family was granted the benefit they deserved. Here is a portion from a letter the family sent: " I want to thank the Badge of Honor Foundation for all the work you did in helping my family apply for the line of duty benefits we didn't know existed. My husband passed away of a duty related heart attack. Due to a lack of information on the local level, we had no idea we could possibly be entitled to death benefits from the public safety office's benefits. I know all of you volunteer to do this for families like mine. My two children and I thank you for all the time and effort in helping with the process. My family was awarded the federal benefit and it was because of your organization that we have it." It is cases like this that shows the need for a advocacy group such as the Badge of Honor Memorial Foundation.
The Badge of Honor Memorial Foundation is very proud to have recently partnered with Cumulus Media during Police Week to spread the word about Police Week and the Badge of Honor Memorial Foundation, explaining this incredibly important cause to communities in 29 states across more than 70 NewsTalk stations. The goal of the media campaign was two-fold: first to spread the word about the mission of the Badge of Honor Foundation and then to educate the public about Police Week in Washington DC.
In 1962, President John F. Kennedy signed a proclamation which designated May 15th as Peace Officers Memorial Day and the week in which that date falls as Police Week. Currently, tens of thousands of law enforcement officers from around the world converge on Washington, DC to participate in a number of planned events which honor those that have paid the ultimate sacrifice. National Police Week draws in between 25,000 to 40,000 attendees. The attendees come from departments throughout the United States as well as from agencies throughout the world.
The Badge of Honor Foundation media campaign included public service announcements, live interviews, and public affairs programming along with a digital strategy to help move the message through the websites of those stations involved. All of the radio interviews can be heard at THIS LINK.
The Badge of Honor Memorial Foundation is excited that Cumulus Media has agreed to continue this partnership and engage in another round of publicity to get the word out. Cumulus Media is the second largest owner and operator of AM and FM radio stations in the United States, operating 460 stations in 89 markets. The company also owns Cumulus Media Networks and their corporate headquarters are located in Atlanta, Georgia.
"On behalf of the Badge of Honor Memorial Foundation staff and the families of the officers who have given the ultimate sacrifice, I want to express my personal gratitude to Cumulus Executive Vice President & COO John Dickey, the Corporate Program Director for Cumulus News/Talk stations Randall Bloomquist, and their entire team including all of their incredible employees and radio personalities who took part in this amazing media campaign. We were truly blessed by their partnership. The Badge of Honor Memorial Foundation looks forward to a long partnership with Cumulus in the future. This problem is not going away." Gary D. Stiles, Fulton County Assistant Chief of Police and Chairman of the Badge of Honor Memorial Foundation.
The Badge of Honor Memorial Foundation Board of Trustees is comprised primarily of 30 senior officers from large police departments, sheriff's departments, and state police departments. The trustees have territorial roles for the Foundation that utilizes their relationships within the police community to identify officers killed in their region. When there is a fatality in their region, the trustee notifies the Foundation, which in turn contacts the respective department.
Most larger police departments and law enforcement organizations already have numerous policies and procedures that commence immediately when an officer is killed. However, the majority of deaths are not among departments located in the most densely populated cities. Smaller departments represent the greatest percentage of officer casualties, and is where the Badge of Honor Memorial Foundation mission comes into play.
To assist all law enforcement departments nationwide, the Badge of Honor Memorial Foundation has developed a nationwide Casualty Assistance Training Program used in many states. Some departments are now using this training and annual continuing education for their command staff. Badge of Honor has also developed a complete Casualty Assistance Training Guide that is offered online to all departments who need immediate assistance.
Badge of Honor Memorial Foundation is also instrumental in the cases where the death of a law enforcement officer is miscategorized and death benefits are not awarded. The process can take years to rectify and all legal efforts and activities are supervised by the Board of Trustees and the Foundation's general counsel, who assist the families in document completion. In the purest sense, it is "cops helping cops."
The Badge of Honor Memorial Foundation looks forward to continue working closely with Cumulus Media in all 89 markets across as many of the 460 radio station in the United States as is possible. We will join together to continue to spread the word about Badge of the Honor Memorial Foundation, the families who have lost a loved one in the line of duty, and the need for individual community support. We will continue to utilize public service announcements, live interviews, and public affairs programming nationwide to move the message and on this second round we are hopeful that the message will resonate across the land.
For more information or to request an interview please contact Badge of Honor Memorial Foundation President David Blanchard or Billy MacLeod, Director of Media Relations. The Badge of Honor Memorial Foundation is a 501 (c) 3 organization with offices in Washington D.C and Dallas, Texas.