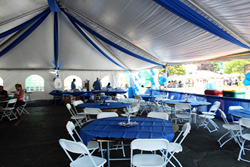 Buffalo, NY (PRWEB) July 15, 2014
Hundreds of people flooded Niagara Square and Delaware Avenue to celebrate Western New York's culinary delights at the nation's largest two-day food festival. This year's Taste of Buffalo featured a number of new additions, including 17 restaurants and 10 William Mattar Shade Zone tents scattered throughout the event.
Despite weather mishaps, festival-goers still came out to sample Buffalo's finest cuisine. William Mattar is happy to have provided a shady place to enjoy this food away from the heat on Saturday and away from the rain on Sunday; the firm thanks all clients and friends who came to support and enjoy the Shade Zones.
About William Mattar, P.C.
William Mattar, P.C., encourages New Yorkers to remember if they're "hurt in a car, call William Mattar," at 444-4444. For over two decades, the firm has been focused on representing injured victims of auto accidents. Serving the Buffalo, Rochester, Syracuse, Binghamton, and Albany regions, the firm's experienced attorneys are prepared to represent victims and help individuals acquire the best results in a short amount of time. To learn more, visit http://www.WilliamMattar.com.