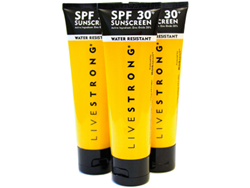 Austin, Texas (PRWEB) July 14, 2014
Protect Against the Most Common Form of Cancer in the U.S. During UV Safety Month
LIVESTRONG and thinksport Produce Chemical Conscious Sunscreens Without Toxins
Nearly half of all cancers in the U.S. are skin cancers, with 3.5 million cases diagnosed each year. During July, UV safety month, the LIVESTRONG Foundation asks Americans to make UV safety a priority and avoid overexposure to harmful UV rays during summer activities. UV radiation can lead to the three most common types of skin cancer: basal cell cancer, squamous cell cancer and most commonly, melanoma, which will result in 76,000 diagnoses in 2014 -- killing one person every 57 minutes, according to the Skin Cancer Foundation.
One of every 5 Americans will develop skin cancer in their lifetime, which provides for more diagnoses than breast, prostate, lung and colon cancer combined. To protect against the harmful rays, use sunscreens that block both UVA and UVB rays 30 minutes before going outside, reapplying every two hours and after swimming or sweating. Sunscreens with high SPFs are not necessary more effective (SPF 30 typically provides 97 percent protections vs. SPF 100 providing 99 percent protection). Even on cloudy days, limit your exposure from the hours of 10 a.m.-4 p.m. and wear protecting clothing and sunglasses.
The LIVESTRONG Foundation provides free navigation services to help cancer patients, survivors, families, friends and caregivers with the practical, emotional and financial needs that accompany a diagnosis. Visit http://www.livestrong.org/WeCanHelp for information on cancer diagnoses, types and assistance in the fight.
About the LIVESTRONG Foundation
The LIVESTRONG Foundation fights to improve the lives of people affected by cancer now. Created in 1997, the Foundation is known for providing free cancer support services and advocating for policies that improve access to care and quality of life. Known for its powerful brand – LIVESTRONG – the Foundation has become a symbol of hope and inspiration around the world. Since its inception, the Foundation has served 2.5 million people affected by the disease and raised more than $500 million to support cancer survivors. One of America's top non-profit organizations, the Foundation has been recognized by industry leaders including Charity Navigator, the National Health Council and the Better Business Bureau for its excellent governance, high standards and transparency. For more information, visit LIVESTRONG.org.
###