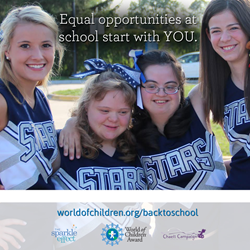 Supporters of World of Children Award's Back to School Campaign can break the cycle of educational inequality, giving children with disabilities the chance to learn, discover and grow at school.
(PRWEB) July 15, 2014
Education has the power to break the cycle of discrimination and poverty. However, one of the world's most vulnerable populations is not going to school: less than 50% of children with disabilities worldwide complete their primary education. Beginning this month, supporters of World of Children Award's Back to School Campaign can break the cycle of educational inequality, giving children with disabilities the chance to learn, discover and grow at school. Visit worldofchildren.org/backtoschool to learn more.
World of Children Award is partnering with Sarah Cronk and Michaela Mycroft – two young disability rights advocates who received the World of Children Youth Award last year – to support inclusive early childhood development programs and school-based enrichment opportunities for children with disabilities. Both have been proven to grow self-confidence and teach children to accept and learn from each other's unique differences.
Donations will help Cronk's program, The Sparkle Effect, launch new school-based cheerleading and dance teams across the United States for children with and without disabilities.
"Parents of students with disabilities report that participation on a Sparkle Effect team results in better school attendance and higher grades," Cronk said. "Moreover, we've seen that our participants with disabilities are more likely to eventually join additional school-based extra-curricular clubs, like drama, newspaper, chorus, and band. Why? Because inclusion is not so much an activity as it is a way of thinking."
Donations will also support Mycroft's early childhood education program in South Africa that prepares children with disabilities for their first years in school.
"These children will be encouraged to celebrate difference and see ability in a different way," Mycroft said, "acknowledging that no matter how different we look or act, that we all have something significant to offer one another."
Examples of what donations will provide include a Back to School Kit ($20) for children enrolled in Mycroft's program and new cheerleading uniforms ($50) for a Sparkle Effect cheerleader. All campaign donations will support The Sparkle Effect and The Chaeli Campaign.
About World of Children Award
World of Children® Award improves the lives of vulnerable children by funding and elevating the most effective changemakers for children worldwide. Since 1998, World of Children Award has granted more than $6 million in cash grants and program support to 100 humanitarian leaders who are the driving force behind programs serving children worldwide. The organization's exhaustive research and vetting of individuals has been hailed by leading philanthropic organizations. The media often refers to World of Children Award as the Nobel Prize for child advocacy.
World of Children Award has been featured on The New York Times, The Huffington Post, People, Town & Country, and Harper's Bazaar. World of Children Award Honorees have also been featured by The New York Times, CNN, The Ellen DeGeneres Show, The Bonnie Hunt Show, Fast Company Magazine, People, Glamour, TEEN Vogue, TIME for Kids, USA Today and the Christian Science Monitor, among several other national and international media.
Most recently, The Huffington Post named World of Children Award's Co-Founders, Harry Leibowitz and Kay Isaacson-Leibowitz, one of the United States' most inspiring "power couples" for their lifetime commitment to improving the lives of vulnerable children around the world.
About Michaela Mycroft
Born with cerebral palsy, Michaela Mycroft sees her disability as a unique opportunity to speak around the world as an "ability advocate," working toward a global community that accepts and embraces disability. Her organization, the Chaeli Campaign (chaelicampaign.co.za), helps more than 3,000 children with disabilities every year, providing equipment, educational opportunities, and spreading awareness. Chaeli recently won the International Children's Peace Prize and Nobel Peace Laureates' Medal for Activism.
About Sarah Cronk
Sarah Cronk created and coached the nation's first high school cheerleading squad that included children with disabilities. Her organization, The Sparkle Effect (thesparkleeffect.org), empowers other young people to include students with disabilities in cheerleading and dance programs across the country. To date, the Sparkle Effect has created more than 100 teams with disabled youth. She has been named L'Oreal's "Woman of Worth" and recently won the grand prize at the Do Something Awards.