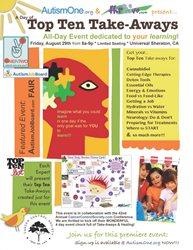 Registration is free, but seating is limited – sign up now!
Los Angeles, CA (PRWEB) July 16, 2014
The Centers for Disease Control and Prevention cite one child in 68 affected by autism, and these children and their families need help. The AutismOne/THRiiiVE Top Ten Take-Aways Conference at the beautiful Sheraton Universal hotel in Universal City, California will present speakers from morning through night, delivering practical, take-home tips that parents can help their children with right away.
Speakers at the August 29 event come from the fields of neurology, neuropsychology, biology, education, integrative medicine, osteopathy, pediatrics, immunological research and more. A job fair for ASD individuals is planned, sponsored by AutismJobBoard.com.
AutismOne Executive Director Teri Arranga said, "This exciting conference is free, and information offered will be invaluable toward starting attendees and their children on a happier path." THRiiiVE founder Dana Gorman, a veteran coordinator of professional networking summits in the autism arena added, "We've known for years how to effectively prioritize inexpensive ways to improve the health of families dealing with autism, and we're delighted to bring this free event to parents." AutismOne, which has been holding conferences in national and international venues since 2003, has worked for many years with THRiiiVE and its team of top medical doctors.
To register, go to the home page of AutismOne at http://www.autismone.org and click on the UPCOMING EVENT: TOP TEN TAKE-AWAYS graphic, which will lead to the quick form. Register now as seating is limited. For more information, call (714) 680-0792.