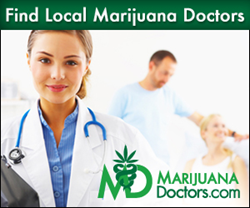 Long Island, New York (PRWEB) July 15, 2014
A subsidiary of the Medical Cannabis Network, MarijuanaDoctors is engaged in an extensive search for New York physicians who are amenable to take part in what could be one of the industry's most talked about documentaries of the year.
A major player in the medical marijuana industry – often referred to as the nation's "ZocDoc of Pot" – MarijuanaDoctors.com is looking to catch the attention of licensed New York healthcare practitioners that have an expansive knowledge surrounding the topic of cannabis.
From pediatricians to cardiologists, and from psychiatrists to neurologists, MCN and MarijuanaDoctors are actively seeking out any licensed New York medical professionals that wish to help de-stigmatize a burgeoning industry. This qualifies for any New York physicians that are interested in conducting studies revolving around medical marijuana, as well as those who have participated in studies that have examined it's substantial benefits.
While the official passage of New York's Compassionate Care Act marks a significant time in the Empire State's 390-year history, the new program is considered substantially limited program when compared to the likes of California and Oregon. However, New York's medical marijuana program centers on a mutual commonality that cannot be denied – providing healing for those who need it most.
Any physicians who are eager to take part in the filming of this documentary should contact the C.O.O. of the Medical Cannabis Network – Mr. John Nicolazzo – whose contact information is listed below. Additionally, participating physicians shall receive fair compensation from MarijuanaDoctors.com for lending the company their time and valuable insight.
Contact Information:
John B. Nicolazzo
Chief Operating Officer
(305) 728-4858