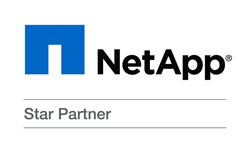 Campbell, CA (PRWEB) July 15, 2014
Groupware Technology, Inc., a leading information technology solution provider, today announced it has achieved Star Partner level within in the NetApp Partner Program. This is the highest level of partnership awarded by NetApp for the design, implementation, and support of NetApp's enterprise data management and storage solutions.
As a Star level partner, Groupware is recognized as a nationally-focused federal and commercial reseller addressing complex IT needs of large, enterprise-class clients. Star-level partners receive the highest level of NetApp Partner Program benefits. NetApp works closely with Star-level partners to help customers find new ways to architect and manage their data storage infrastructure to increase agility and scalability.
Groupware has made significant investments in resources and training to attain Star Partner status and recently announced that it has met the requirements to operate as a FlexPod Premium Partner. NetApp storage solutions are an important part of the Groupware Cloud Practice, a team led by Ed Horley, which helps customers implement virtualization and cloud computing solutions for rapid deployment.
"This recognition by NetApp and our Star Partner status enhances our ability to help customers optimize their data centers and accelerate their migration to the cloud utilizing NetApp technologies," stated Mike Thompson, Groupware President, CEO. "Star Partner standing provides us with the resources and support from NetApp to provide the converged and data solutions that scale with the needs of customers' business.
"We are excited Groupware has achieved Star status." said Regina Kunkle, vice president, Americas Channel, NetApp. "We believe NetApp's partners are the best in the industry, with exceptional storage acumen and incredible customer service. Together with data solutions and cloud enablement partners like Groupware Technology, NetApp delivers exciting technology such as FlexPod, our converged infrastructure solution, as well as our state-of-the-art FLASH solutions."
###
About Groupware Technology
Groupware Technology, Inc. is a leading datacenter infrastructure solution provider that delivers technology solutions to customers to lower costs, increase agility and competitiveness. Our commitment to our customers is to help optimize their existing IT assets, evaluate and implement new technologies and provide a roadmap toward cloud-centric infrastructure models. Groupware specializes in compute, storage, virtualization, networking and security, enterprise software and cloud computing solutions. For more information, contact (408) 540-0090 or visit http://www.groupwaretechnology.com.
Follow us on:
Facebook: http://www.facebook.com/pages/Groupware-Technology-Inc/178627312150860
LinkedIn: http://www.linkedin.com/company/groupware-technology
Contacts
Beth Fox, Groupware Technology
503-781-1717, bfox(at)gw-mail(dot)com