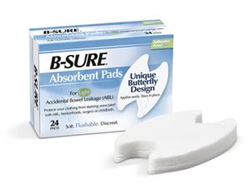 ABL is surprising common, with approximately 1 in 5 women over the age of 40 experiencing light leakage.
Neenah, WI (PRWEB) July 16, 2014
A product for light accidental bowel leakage (ABL) is now available at The CareGiver Partnership, a national online retailer of incontinence products and other home health care supplies. B-Sure absorbent pads are designed to help men and women with ABL maintain active lifestyles, says Founder Lynn Wilson.
"ABL is surprising common, with approximately 1 in 5 women over the age of 40 experiencing light leakage," says Lynn Wilson, Founder of The CareGiver Partnership. "This mild anal leakage may be associated with hemorrhoids, diarrhea, surgery, childbirth, irritable bowel syndrome, or nerve or muscle damage or weakness."
B-Sure absorbent pads are butterfly-shaped body liners that offer discreet protection for light ABL. These soft, ultra-thin pads fit between the buttocks and are made of a material that absorbs odors and up to 13 times their weight in liquid. The thin, curved pads help them stay in place without adhesives.
"We're proud to offer this product to our customers. B-Sure pads have been used by medical professionals for decades and are made in the U.S.A.," says Wilson. "They're a comfortable, cost-effective way to protect clothing from light leakage."
Wilson says another benefit to B-Sure pads is they're ideal for easy, hygienic application of topical ointments. In addition to absorbent pads, the B-Sure product line includes a pump-spray odor eliminator, perineal wash, witch hazel travel towelettes, and aloe and vitamin E towelettes.
To learn more about accidental bowel leakage, including tips on managing ABL and five myths, visit http://www.ablinfo.org. Or visit The CareGiver Partnership blog for more information on ABL and its treatment.
The CareGiver Partnership is a national direct-to-consumer retailer of home healthcare products for incontinence, diabetes, nutrition support and more. In its eighth year of providing products and services that help caregivers and loved ones maintain personal dignity, the company also offers an online library of more than 1,500 family caregiver resources and personal service by experts in caregiving. Call 1-800-985-1353 or visit online at caregiverpartnership.com.