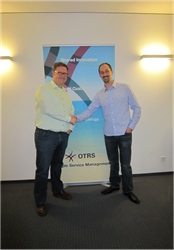 We are looking forward to providing services for the OTRS IT service software with the help of our new partner OSCOSM and help companies in South Africa make their internal and external communications in service management more transparent
Cupertino, CA, United States (PRWEB UK) 16 July 2014
OTRS Group, the world's leading provider of cloud-based solutions for IT service software, announced OSCOSM as their first official partner in South Africa to offer services and solutions for service management. The wide and trusted network of OTRS partners was therefore extended to 18, with partners in Italy, Portugal, Spain, Russia, United Arab Emirates, Costa Rica, Brazil, Venezuela, India and Japan.
"South Africa is a region with a huge potential to unlock the efficiency of service management organizations and their demand to save IT costs and especially on licensing costs. We chose OSCOSM as our trusted partner, because of a similar mindset on how to support our customers. We put ourselves in their shoes, give them a solution that perfectly fits their needs and that also grows with their future demands," said Christopher Kuhn, COO from OTRS Group.
OSCOSM founder and Principal Service Management Consultant Clinton Bruigom said, "This partnership will see OSCOSM offering customer orientated services based on Outside-In approaches and Service Management good practices."
OSCOSM's solution will focus around professional services which enhance communication and processes for service desks, IT functional departments as well as business areas such as sales, finance or other shared service business units.
OTRS products range from IT service software to an ITSM suite including Incident, Problem, Change, Configuration and Service Level Management modules. It scores with translations in 33 languages, web-based access and modular settings. Those modules comprise an integrated CMDB, Customer Survey, Reporting, TimeAccounting, Workflows and an iPhone App for mobile access for on-site technicians.
Whether as on-premises or as cloud based IT service software, OTRS is 100% free of licensing costs, with various support services offered through both OSCOSM and OTRS. Customers such as Lufthansa, Virgin Australia, KFC, Phillips, IBM and Porsche trust in its robust, high performing and scalable IT service software along with specific South African customers; North West University and Scania South Africa.
Clinton Bruigom further explained why OSCOSM services are outstanding, "OSCOSM will ultimately use simplistic service models that are designed with customer experience in mind, implemented to drive customer satisfaction and customer productivity, which historically are not always considered in big implementations."
"We are looking forward to providing services for the OTRS IT service software with the help of our new partner OSCOSM and help companies in South Africa make their internal and external communications in service management more transparent," concluded Christopher Kuhn, COO from OTRS Group.
About OTRS Group
OTRS Group is the vendor and world's leading provider of the open source OTRS Service Management suite, including the cloudbased Managed OTRS solution as well as the OTRS Help Desk software and the ITIL® V3 compliant IT Service Management software OTRS::ITSM. With subsidiaries in the US, the Netherlands, Hong Kong, Malaysia, and Mexico OTRS Group offers Managed Services as well as trainings, service support, consulting, and software development to businesses that want to increase the efficiency of their service management while saving costs and resources. Key customers include industry leaders such as NASA, IBM, Siemens, and Kentucky Fried Chicken as well as 130,000 other organizations worldwide. OTRS is available in 33 languages, offers an associated iPhone App, and is used by 60 percent of DAX 30 companies. Find out more about OTRS and our services at http://www.otrs.com.
About OSCOSM (Pty) Ltd
OSCOSM is founded in 2013. We specialize in improving the services that IT service providers offer to their customers. Our specialities lie in our ability to seamlessly implement open-source technologies while aligning and implementing best practice processes, the combination of which ensures operational excellence in the delivery of services. Our company focuses on the customer's experience in everything we do. We always put ourselves in "our customer's shoes" to better understand their experiences as well as what outcomes they must achieve to be successful.