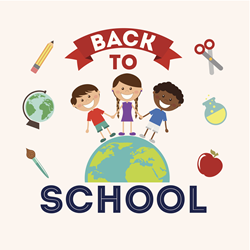 Many of the children served by Orchard Place have never started a school year with basic school supplies.
Des Moines, IA (PRWEB) July 17, 2014
Orchard Place, mental health experts for Iowa's children, is launching their annual school supply drive to help 200 children get their educational year off to a great start. Today many families are forced to choose between school supplies or food and medicine.
Many of the children served by Orchard Place have never started a school year with basic school supplies.
"We want to make sure the kids at Orchard Place have all the back-to school essentials to start the year off right. Supporting the school supply drive helps children at the Orchard Place Campus, Orchard Place / Pace Juvenile Center and Orchard Place/ Child Guidance Center," said Director of Volunteers Megan Ronnenberg.
Some of the priority items and supplies needed include:

USB Cards / Flash Drives
Low Odor dry Erase Markers
Gallon & Quart Zip Lock Bags
Classroom Sized Hand Sanitizer
Wide & College Loose Leaf Paper
Two Pocket Folders
24 Count Crayons
Pencils and Pens
Backpacks
Spiral Notebooks (Wide & College)
Cash donations and gift cards are also appreciated. Cash donations may be made via the Orchard Place Website at the General Support section / Special Event Category which allows online donations for the School Supply Drive:
https://www.orchardplace.org/donation.aspx?id=General
Money or gift cards will be used to purchase supplies that are in need and will be used to help kids participate in activities and purchase items that teachers require after the start of the school year. Special notebooks or gym clothes are just two examples.
Supplies can be dropped off at the Orchard Place Campus, Variety Family Services Center, 925 SW Porter Avenue, Des Moines, IA 50315. The school supply campaign will run from July 14 to August 22nd.
Orchard Place is encouraging our many friends and supporters to help get our students off to a good start. For questions concerning the school drive, contact Megan Ronnenberg at mronnenberg(at)orchardplace(dot)org or call 515-287-9621.
About Orchard Place:
Orchard Place is the oldest locally-based charity in Des Moines providing mental health treatment and expertise for Iowa's kids. Our inpatient, outpatient and community program serves nearly 8,000 children from birth to age 22 annually. Four operating divisions work under the Orchard Place umbrella of services: Child Guidance Center, Orchard Place Campus, PACE Juvenile Center and the Integrated Health Program. More information can be found at http://www.orchardplace.org.