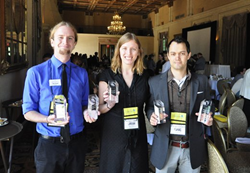 ORLANDO, Fla. (PRWEB) July 16, 2014
Turnstile Media Group's Community Media Division – which includes Winter Park-Maitland Observer and Seminole Voice – received a total of nine awards in the 2013 Florida Press Association Better Weekly Newspaper Contest. Presented Friday during an awards luncheon at the FPA/FSNE Annual Convention in Coral Gables, the Community Media Division's honors spanned seven categories and recognized five different staffers, illustrating both the quality and scope of the group's hyperlocal news coverage.
Winter Park-Maitland Observer

First Place: Community History – "Revisiting the spirit of Jack Kerouac," Associate Editor Sarah Wilson
First Place: Agricultural and Environmental – "Resurrecting the Senator," Managing Editor Isaac Babcock
Second Place: Faith and Family – "Pinwheels for a purpose," Wilson
Third Place: Health, Medical and Science – "Local docs fight to end risky elective deliveries," Staff Writer Brittni Larson
Third Place: Arts, Entertainment and Review – "Ageless Ambition," Babcock
Seminole Voice

First Place: Faith and Family – "Life after the clock runs out," and "The home that keeps kids from jail" (two-part series), Associate Editor Tim Freed
First Place: Arts, Entertainment and Review – "Remembering a dark Sunday," Freed
First Place: Sports Feature Story – "Running with heart: a coach's survival story," Babcock and Freed
Second Place: Serious Column – "Kids House leads child advocacy," Columnist Karen McEnany-Phillips
"Our editorial team does such an amazing job week in and week out, uncovering the stories that matter most to our community, and we are thrilled to have our efforts recognized, once again, by the Florida Press Association," said Community Media Division Publisher Tracy Craft. "These awards underscore not only the caliber of our writers and editors, but also their passion for serving our readers across Central Florida."
Visit WPMObserver.com/2013FPA to read each of these award-winning stories.
About Turnstile Media Group's Community Media Division
As trusted stewards of the community, Winter Park–Maitland Observer, Seminole Voice and Central Florida Senior combine independent reporting and insightful commentary to deliver relentlessly local coverage of the highest caliber to their surrounding communities. The Community Media Division is a part of Turnstile Media Group, which specializes in developing media platforms that engage and strengthen the communities they serve. Founded in 1990 and headquartered in Orlando, Fla., Turnstile Media Group also includes such brands as Golfweek, Golfweek Custom Media, TurfNet, Professional Artist and Turnstile Connect.
###