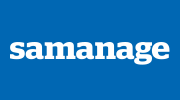 Cary, N.C. (PRWEB) July 16, 2014
Samanage, provider of the only unified service desk and asset management cloud solution, announced today that David Marrow has joined its executive leadership team as vice president of global sales. Marrow will lead the global sales team, building capacity to scale over the next several years, setting strategic direction of the sales organization and managing the sales forecast and predictability.
"The ITSM mid-market is ripe for disruption, and Samanage is uniquely positioned to capture significant market share," said Doron Gordon, Samanage CEO. "To continue our growth rate of 30% quarter over quarter, we need the kind of leadership David brings to a team. His wealth of experience building and leading successful sales teams will be a critical asset as we prepare Samanage for the next stage of growth."
Prior to Samanage, Marrow served as president and co-founder of Kalloop, a SaaS-based employee scheduling system, and in director of sales positions for UL Workplace Health and Safety, and Syncfusion. His considerable sales experience in the tech arena also includes building strong sales teams and results at SolarWinds (EMEA and US) and Red Hat (APAC).
"One of the things that attracted me most to Samanage is the unique and immediate time to value the solutions bring to customers," commented Marrow. "The primary focus is on delivering an outstanding user experience with exceptional usability and simplicity, combined with the level of sophistication and functionality required to manage complex IT environments. I'm excited to be part of a team that provide such great business agility and customer service."
Marrow earned his bachelor's degree in Communications with a concentration in Public Relations from North Carolina State University.
About Samanage
Samanage provides the only true multi-tenant, unified service desk and asset management cloud solution on the market today. Our always new software delivers an unmatched user experience and enables code-free customization, allowing customers to fully deploy a robust IT Service Management (ITSM) solution in less than 14 days. Our goal is to help customers deliver a superior service experience to their end users, and real value throughout their organization by improving asset control, empowering end users, and maximizing resources. Learn more at: http://www.samanage.com.