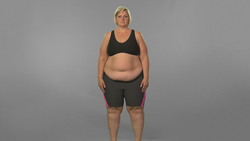 (PRWEB) July 16, 2014
The next episode of "Extreme Weight Loss" Season Four introduces a former competitive gymnast and high school cheerleader from Tulsa, OK. who vowed to do a back handspring every year on her birthday until she turned 60. At her current weight of 315 pounds, however, that feat is impossible.
Featuring a unique, non-competitive approach to weight loss transformations, "Extreme Weight Loss" airs Tuesday, July 22 (8:00-10:00 p.m., ET/PT) on the ABC Television Network.
Georgeanna is the wife of a pastor and the mother of two daughters. Often referred to as "Martha Stewart" by her family and friends, for whom she bakes, decorates, sews and crafts, Georgeanna neglected taking care of herself and is now more than 150 pounds overweight. This episode documents Georgeanna's year-long physical and emotional journey.
New in Season Four, each "Extreme Weight Loss" participant spends the first 90 days of his or her weight loss journey at the University of Colorado Anschutz Health and Wellness Center (AHWC) in Aurora, CO. Holly Wyatt, MD, medical director for the AHWC, also serves as medical director for the television program and is seen on the show each week helping participants safely lose up to half of their body weight.
The University of Colorado Anschutz Health and Wellness Center offers some of the country's most advanced research and science-based expertise, focusing on a comprehensive weight loss and weight management approach, including fitness, nutrition and wellness services. Learn more at http://www.anschutzwellness.com. Follow us on Facebook and Twitter.
Extreme Weight Loss is produced for ABC by Eyeworks USA. The series is executive-produced by JD Roth, Todd A. Nelson, Matt Assmus and Brant Pinvidic.