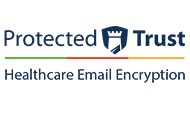 "We are pleased to belong to a community of members that share the same security and privacy best practices, measured by a common standard of accountability," David Bailey, Vice President of Protected Trust
Winter Haven, FL (PRWEB) July 17, 2014
Protected Trust, a leading provider of email encryption and Health Information Portability and Accountability Act-compliant communications and IT services, announced today that it has become a member of DirectTrust. This latest achievement further solidifies Protected Trust's place in the email encryption arena and health care provider support landscape.
Acting as a nonprofit organization that remains neutral in hopes of supporting health insurance service providers, doctors, patients, vendors and others in the Direct community, DirectTrust works hard to streamline exchanges between a variety of entities.
For the most part, this organization is focused upon the development, promotion and reinforcement of security, compliance and other best practices that impact the overall health care industry. Considering the fact that many organizations in a wide range of markets must oblige both the Health Information Technology for Economic and Clinical Health Act and HIPAA, more support is often needed to gain a handle on it all.
As such, DirectTrust supports entities through meaningful use and interoperability standards for electronic health record system deployments, as well as a variety of other needs.
Protected Trust joins a massive membership community with its new announcement, as DirectTrust has an estimated 200,000 individual users and 5,000 health care organizations participate in the Direct system today.
"We are pleased to belong to a community of members that share the same security and privacy best practices, measured by a common standard of accountability," David Bailey, Vice President of Protected Trust, affirmed.
With extensive experience in the field of health care provider support, specifically with respect to data, communications and email compliance, Protected Trust will help to further strengthen the overall integrity of the community.
Additionally, DirectTrust has consistently been recognized as a leader in its field. The firm was awarded the ONC Cooperative Agreement from the U.S. Department of Health and Human Services' Office of the National Coordinator for Health Information Technology.
Businesses and organizations working in the medical community that are covered by federal regulatory compliance statutes will often enjoy a significant boost in the right direction by leveraging the support of organizations such as DirectTrust and Protected Trust.
From email encryption and data center solutions to HIPAA email and communications compliance, Protected Trust is a reliable member of the health care vendor community.