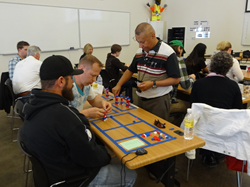 This Lean workshop will demonstrate how VSM can be used to identify redundancy, unnecessary steps, waiting time and rework that are slowing processing time
Rocklin, CA (PRWEB) July 17, 2014
Northern California employers can discover ways to boost profits by increasing capacity without adding costs at the Value Stream Mapping training offered on August 6 & 20 by the Continuous Improvement Network with training partner, Sierra College Center of Applied Competitive Technologies CACT. The course will be held at Rex Moore Electrical Contractors at 6001 Outfall Circle in Sacramento. The fee is $240 for CIN Members, $375 for Non-Members and $280 for Government. Register for this event at the CIN website.
For businesses working toward becoming Lean enterprises, Value Stream Mapping (VSM) is a tool that can drive the action plan, explained Carol Pepper-Kittredge, CACT Director, Sierra College. "VSM is a visual method that enables employees to look in depth at current business activities and identify ways to streamline production," said Pepper-Kittredge.
"This Lean workshop will demonstrate how VSM can be used to identify redundancy, unnecessary steps, waiting time and rework that are slowing processing time," said Pepper-Kittredge. "Especially for companies with limited staff, employing VSM can help you pinpoint ways to meet demand using existing resources. Businesses employing VSM have reduced their backlog, decreased production time and more successfully met deadlines."
VSM is a Lean tool used by businesses to draw a picture of what is happening and suggest improvements by looking in detail at each step of a specific business process. By diagraming what happens and who works on each step as well as gathering data on how much time it takes, employees can identify bottlenecks and wait times. A critical component of VSM is to distinguish the steps that add value for customers and those that don't.
This employee training includes hands-on exercises to practice making present and future maps, examples of how companies in the Sacramento region have used VSM and opportunities to interact with other business leaders who are on the Lean journey and active in the Continuous Improvement Network.
About the Continuous Improvement Network
The Continuous Improvement Network (CIN) is an association of business leaders committed to learning and sharing continuous improvement methods. Founded in 2011 by Northern California employers, the CIN provides a gateway to new ideas, motivation and training. The organization offers tours, training and executive forums for companies implementing process improvement strategies.
About Sierra College CACT
Sierra College Center for Applied Competitive Technologies (CACT) is focused on Advanced Manufacturing and is funded through the Workforce and Economic Development program of the California Community College Chancellor's Office. Since 1992, the Sierra College CACT has provided customized employee training for organizations, manufacturers and technology businesses throughout Northern California. Additional information is available at http://www.sierracollegetraining.com/ or by contacting Carol Pepper-Kittredge, CACT Director, Sierra College at 916-660-7801 or training(at)sierracollege.edu.