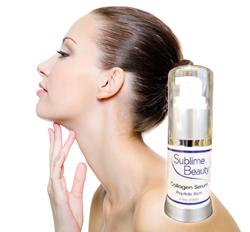 Aging skin needs to boost collagen production, to moisturize properly, and it needs help with uneven tone and damage, says Sublime Beauty®.
St. Petersburg, FL (PRWEB) July 17, 2014
Two serums do everything one needs for aging skin, says Sublime Beauty®.
Aging skin needs to boost collagen production, it needs to moisturize properly, and it needs help with uneven tone and damage.
The Collagen Peptide Serum and the Retinol Serum with Vitamin C are the two winning serums. Here are 3 reasons why:
1) Boost collagen. Aging skin loses collagen each year, and collagen makes up 75% of skin. As it diminishes, wrinkles, sagging and thinning occurs. By age 60, more than 45% of collagen is gone.
A key to proper anti-aging skin care is stepping up collagen production. The peptide Matrixyl is one of the best collagen boosters today, and it is found in the Collagen Peptide Serum.
Retinol and Vitamin C both strongly encourage collagen production as well, and both found in the Sublime Beauty® Retinol Serum.
2) Moisturize properly. The Collagen serum includes aloe, ginseng, collagen and elastin among the ingredients to hydrate and moisturize, while the Retinol serum moisturizes but lightly exfoliates so skin is revitalized and fresher, and holds moisture better.
3) Heal. Retinol and Vitamin C are both well-known healers of skin, favored by dermatologiest. Retinol actually heals hyperpigmentation and sun damage, evens out tone, encourages collagen, combats acne, reduces wrinkles, and lightly exfoliates the old cells away - which improves quality and texture.
Vitamin C is a powerful antioxidant that fights free radicals attacking the skin, and boosts collagen production.
And as the peptide Matrixyl increases collagen, skin "heals" as well, becoming more youthful, softer and smoother.
Retinol should be used at night only; the Collagen serum can be used twice daily. Both are also available at Amazon in addition to the Sublime Beauty® webstore.
These two serums are basics that should be included in every anti-aging skincare plan!
ABOUT: Sublime Beauty® is a quality skincare company that focuses on products to "Age Younger". Products help to boost collagen, hydrate, relax wrinkles and improve skin. A niche includes healthy Skin Brushes. The company webstore offers free standard shipping and a VIP Club. Sign up for Secret Sales on the site. Products also available on Amazon.