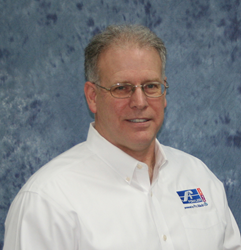 Cincinnati, OH (PRWEB) July 17, 2014
Andy Monroe has been appointed Vice President of Product and Market Development for Pro Mach's recently established Bottling & Capping Business Unit. The business unit coordinates engineering, manufacturing, marketing, and sales efforts of the Fowler Products, Zalkin, and Federal Mfg. divisions. The business unit functions as Pro Mach's nucleus for expanding the company's range of solutions associated with bottling and capping consumer packaged goods, dairy products, juices, beverages, spirits, pharmaceuticals, and industrial products.
Monroe has worked as Sales and Marketing Manager of Fowler Products for the past 14 years. He joined Fowler in 1984 as a Technical Specialist for water purification systems after earning a B.S. degree from the University of Georgia in microbiology. He moved to the sales department in 1987.
Monroe's new duties include leading the development of marketing strategies for new products and collaborating with the divisional sales and marketing managers to plan and implement their sales goals.
"In his new position, Andy Monroe will lead product changes and improvements based on his market knowledge and customer feedback to address the needs of the market and to enhance Pro Mach's competitive position," said Don Cotney, President of the Bottling & Capping Business Unit. "Andy and I worked together at Fowler for many years, and I'm confident that he has the comprehensive, global perspective and understanding of the group's markets, industry developments, and customer concerns to help coordinate these three businesses into a successful team."
The new Bottling & Capping Business Unit has more than 450 employees across the three divisions, including more than 80 on the engineering teams. Federal Mfg. Milwaukee, Wisconsin, is recognized as one of the world's leading filling companies in dairy and other liquid filling applications.
Zalkin, Montreuil-l'Argille, France, founded in 1932, is a leading capping machinery manufacturer with customers worldwide across a wide range of industries, including food, beverage, pharmaceutical, consumer goods, and industrial products. Zalkin manufactures screw, push-on, and Roll-on Pilfer Proof (ROPP) capping machines, as well as cap sorters, elevators, and de-cappers.
Zalkin also has a long-term successful partnership with Fowler Products, Athens, Georgia. This relationship began more than 40 years ago when Fowler obtained exclusive value-adding distribution rights to Zalkin machinery in the United States and the Caribbean basin. Fowler Products manufactures machinery for cap handling and closing containers in virtually all markets, including hot fill and cold fill beverages, food, pharmaceutical, chemical, personal care, household goods, and distilled spirits.
About Pro Mach
Pro Mach is a leading provider of integrated packaging and processing products and solutions for food, beverage, consumer goods, pharmaceutical, and other diverse companies. Through our brands, Pro Mach provides product packaging and processing equipment, PMMI certified training, installation, parts, and service in Bottling & Capping, Primary Packaging, Flexible Packaging, Material Handling, Identification & Tracking, and End of Line Packaging.
Pro Mach has a diverse customer base, from Fortune 500 companies to smaller, privately-held businesses worldwide, which depend on reliable, flexible, technologically advanced equipment and integrated solution sets. Pro Mach is headquartered near Cincinnati, Ohio with manufacturing facilities and offices throughout the United States, Canada, and Europe. For more information about Pro Mach, visit http://www.ProMachInc.com.