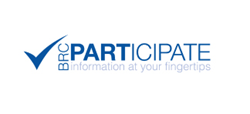 BRC Participate marks a step-change in the way we do business, offering our members immediate access to a wealth of vital content via a dynamic online platform.
London, U.K. (PRWEB) July 21, 2014
The new service – BRC Participate – will use the SAI Global Information Services i2i online document management solution. It features a new online bookshop that allows subscribers easy access to all BRC publications and linked supporting materials in one place.
Mark Proctor, CEO of BRC Trading, said: "BRC Participate marks a step-change in the way we do business, offering our members immediate access to a wealth of vital content via a dynamic online platform. It represents an exciting new point of interface with our Standards, Guidelines and information materials, designed above all to make it easier and quicker for people to access the information they need to manage their operations."
An innovative and enabling web-based platform, BRC Participate will facilitate the management of business-critical information in support of quality control, safety, technical requirements and business processes. Wherever they are in the world, subscribers will have 24/7 access to all materials stored online, with encrypted log-in and passwords ensuring total user security.
The new platform will be launched at BRC's European Food Safety Conference in October 2014. The conference, to be held in London, will provide valuable insights and discussion designed to improve food safety management in retail, food service and manufacturing. It will also provide a great opportunity for attendees to find out more about BRC Participate and preview its many functions and features.
Anne Scorey, President Information Services Group, EMEA & US commented: "We are delighted to be partnering with BRC Global Standards to deliver new content delivery solutions for their subscribers and certification bodies. We are all looking forward to the new service launch in October this year and the release of the important Food Safety Issue 7 Standard in January 2015."
For more information, please contact Nigel Scott, Sales and Marketing Manager, BRC Trading, on nigel(dot)scott(at)brcglobalstandards(dot)com or +44 (0)20 7854 8990. Find out more about BRC Global Standards at: http://www.brcglobalstandards.com.
Notes to Editors:
About BRC Global Standards:
BRC Global Standards is the world's biggest provider of safety and quality Standards Programmes for food manufacture, packaging, storage and distribution. BRC's Global Standards are generated with the help of technical specialists, retailers, manufacturers and certification bodies from around the world, so everything is based on practicality, rigour and clarity.
As well as the Standards, BRC Global Standards offers comprehensive support to help new and established businesses to achieve their quality and safety aims.
About SAI Global
SAI Global is an Information Services business and one of the largest providers of Standards management solutions in the world. Headquartered in Sydney, Australia, with offices in over 25 countries in Asia, Europe and America, SAI are a truly global presence in the Standards world.
Additional information
BRC's Food Safety Europe 2014 conference will take place on 21 October 2014 at the Lancaster London Hotel, London, UK. Presentations, panel discussions and active roundtables will address the following topics:

Food safety culture
Supply chain management and traceability
Regulatory updates
Audit preparation
Incident management
For more information, go to: http://www.brcfoodsafetyeurope.com.