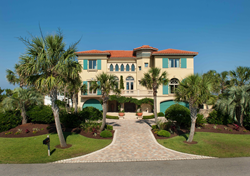 'Grand Estates Auction Company homes usually close within 30 days, so one lucky buyer can be enjoying this desirable oceanfront property before Labor Day,' stated Grand Estates Auction Company Director of Sales Development Stacy K. Reich.
Georgetown, S.C. (PRWEB) July 17, 2014
Grand Estates Auction Company, the industry leader for luxury real estate auctions, announced the August 5th live auction of an elegant four-bedroom Mediterranean beach front home in the privately gated DeBordieu community. With 2,000 square feet of exterior decks, terraces and patios overlooking beautiful ocean views, the home seamlessly blends indoor and outdoor spaces and offers the perfect setting for entertaining in style or just getting away from it all. Buyers will be able to name their price on this South Carolina coastal gem at the live auction to be held on location at 2:00 p.m.
"Grand Estates Auction Company homes usually close within 30 days, so one lucky buyer can be enjoying this desirable oceanfront property before Labor Day," stated Grand Estates Auction Company Director of Sales Development Stacy K. Reich. "The live auction process provides fair market value in its purest and quickest form, as well as a level of transparency and expediency that the traditional listing process does not provide."
The magnificent home features four bedrooms, four full bathrooms, two half-bathrooms, a gourmet chef's kitchen featuring high-quality appliances, formal dining and living rooms, a great room, a separate office with built-in shelving, terraces, patios and balconies across the entire back of the house, as well as a deck sitting area right on the beach. Architectural design elements include 10' ceilings, hardwood floors, imported stone tiles, an elegant curved staircase with colorful stone tiles and a wrought iron balustrade, stained glass windows, floor-to-ceiling windows, French doors throughout, intricate wrought iron accents, Venetian plaster applications on the walls, custom molding, built-in bookcases, elegant chandeliers, and two fireplaces. Amenities include elevator access to all three levels of the home, heated splash pool with fountain and Jacuzzi jets, a 5-car garage, hurricane shutters and a whole-house back-up generator.
Situated between the picturesque beaches of the Atlantic Ocean and the sunlit river marshes of an extensive wildlife preserve, DeBordieu boasts an unspoiled natural setting. Integrated carefully into this peaceful setting is the DeBordieu Club, which offers an 18-hole championship golf course, 10 tennis courts, a pool, private boating and fishing access, and social activities for all ages. Historic Georgetown and Pawley's Island are just minutes away, while Charleston and Myrtle Beach are within an hour's drive. The South Carolina coast offers fishing villages and antebellum mansions to explore, fine dining, quaint shops, and endless recreational activities, including numerous top-rated golf clubs within 15 minutes of the home.
Grand Estates Auction Company has an unsurpassed closing rate in the luxury residential real estate auction industry and specializes in creating comprehensive global marketing campaigns for luxury properties. There are no contingencies, no lengthy negotiations, and timelines for closing are already established. To help buyers make an informed purchase, a comprehensive due-diligence packet is available, and ample time is allotted for tours and inspections prior to the auction. Similar to rare artwork that does not have comparable pieces to set the value, exceptional properties such as this are well suited for auction, where bidders set the market value.
The Georgetown auction will start promptly at 2:00 p.m. on Tuesday, August 5th. Provisions for remote bidding can be arranged. The property will be available for prospective bidders to preview beginning Friday, August 1st, at 11:00 a.m., with daily preview times scheduled through the date of the auction. Buyers may contact Grand Estates Auction Company's auction information office to schedule an appointment during one of the preview times at 877-376-9560. A $50,000.00 certified check or personal check along with a bank letter of guarantee will be required to register to bid. Real estate agents and brokers are fully protected and encouraged to participate.
Grand Estates Auction Company is the leader in the niche market of auctioning luxury real estate, specializing in properties valued at $2 million and above throughout North America, the Caribbean, and select international destinations. Based in Charlotte, N.C., the company was established in 1999 and was the first of its kind. Recent sales include an $11 million dollar home in Bay Harbor, Mich., and an upcoming auction on August 12th in Newtown, Conn. For more information and auction details visit http://www.GrandEstatesAuction.com.