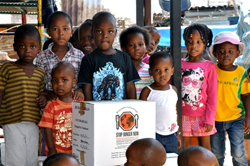 (PRWEB) July 17, 2014
Stop Hunger Now Southern Africa is hosting "Meals in Memory", a large-scale two-city volunteer meal packaging event. Thousands of volunteers will join celebrities, sponsors and Stop Hunger Now to package one million meals in 67-minute shifts for Nelson Mandela International Day on July 18th, 2014.
Founded in the United States in 1998, Stop Hunger Now has delivered aid and disaster relief supplies in the form of food, medical supplies, clothing, school supplies and more to hundreds of thousands of hungry and vulnerable people in 65 countries.
Stop Hunger Now meal packaging events are a volunteer-based program that coordinate the streamlined packaging of highly nutritious dehydrated meals. Stop Hunger Now has engaged more than 450,000 volunteers worldwide and has offices in five countries, including the United States, South Africa, Malaysia, Italy and the Philippines.
Stop Hunger Now meals target the world's most vulnerable. According to the South Africa National Development Plan, 11.5 million impoverished children are vulnerable to hunger in the country. Stop Hunger Now Southern Africa is on a mission to get nutritious meals to young children at crèches and pre-schools, also known as Early Childhood Development Centres (ECDs).
"The majority of ECDs are not registered in South Africa," says Barry Mey, CEO of Stop Hunger Now Southern Africa. "By donating meal packs, the money saved on food can go to teacher training and infrastructural development. Thus the children receive nutritious food AND their environment improves."
"Meals in Memory" will take place on Friday, July18th 2014, in Johannesburg at the Sandton Convention Centre, where an estimated 5 000 volunteers will package a total of 745,000 meals from 8 am to 4pm. Each 67-minute shift will be launched with a candle-lighting ceremony hosted by Stop Hunger Now members and volunteer ambassadors, such as Mandela's great-grandson Luvuyo Mandela and SA rugby star Pierre Spies. Celebrities such as Gert-Johan Coetzee, Casper de Vries, Benny Masekwameng, Kerry McGregor, Steve Mululu and Louise Carverhave committed to spending their 67 minutes honoring Mandela by helping to stop hunger in South Africa.
Other simultaneous Stop Hunger Now activities will include a 20,000 meal packaging event at the East Rand Mall in Johannesburg and a 250,000 meal packaging event at the Canal Walk Shopping Centre in Cape Town. To learn about volunteer opportunities contact Stop Hunger Now Southern Africa at info@stophungernowsa.org.
MEDIA INVITATION:
Stop Hunger Now SouthernAfrican welcomes media at the "Meals in Memory" event on July18th at any of the 5 shifts. Each shift is preceded by a candle lighting ceremony 15 minutes before the hour. To learn more about media opportunities contact Shaw Media - 082 3766035 - Melinda@shawmedia.co.za.
TIMES:
7:45am: Opening by Yolanda Cuba, acting director of corporate affairs SAB
9:45am: Opening by SizweNxasana, Firstrand CEO. Celebrity Volunteers will be participating during this shift.
11:45am: Opening by MaloseKekana, NDA Chairman
1:45pm: Opening by Volunteer Ambassador Luvuyo Mandela (Madiba's grandson)
3:45pm: Opening by Volunteer Ambassador Pierre Spies (professional rugby player)
For more than 15 years, Stop Hunger Now has been creating a movement to end hunger with more than 150,000,000 meals distributed along with other aid to 65 countries. Driven by a mission to end hunger in our lifetime, the organization provides food and life-saving aid to the world's most vulnerable and helps mobilize the necessary resources impacting millions of lives.
Stop Hunger Now meal packaging programs offer volunteers the opportunity to participate in a hands-on international hunger relief program and to become educated, engaged advocates for the world's poor and hungry.
In its efforts to respond to emergency needs around the world Stop Hunger Now receives and distributes significant donations of in-kind aid. These donations are large quantities of food, medicines, medical supplies and other such items as may be of use in fighting hunger and providing relief in a crisis