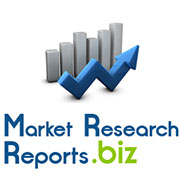 Functional Materials for Supercapacitors Ultracapacitors EDLC 2015-2025
Albany, NY (PRWEB) July 18, 2014
This report explains the materials and performance achievements and objectives of the 80 manufacturers of super capacitors and supercabatteries. It concerns materials work both by the device manufacturers and by the many third party developers and suppliers across the world. The structure of a super capacitor and supercabattery is introduced together with the materials parameters needed.
View Full Report With Complete TOC at http://www.marketresearchreports.biz/analysis/212450
The candidate families of material are assess and progress reported and predicted. Notably, that means electrode and electrolyte materials for electrodes that includes grapheme, aero gels and chemically-derived carbons. Important for future electrolyte needs are such things as the new neutral aqueous electrolytes permitting low cost current collectors, ionic liquids that now work at low temperatures and new organic solvents that are less toxic and flammable.
For electrodes, the various hierarchical, hexahedral and thin film options are compared and all is related to various end points from micro-super capacitors to structural ones and large ones in electric vehicles, grid and other electrical engineering applications. For example, we forecast the best energy density that will be achieved in volume production in the next ten years and in 15 years from now, the best candidate materials, capacitor structures and electrolytes for achieving this and the value market resulting.
Download Full Report With TOC: http://www.marketresearchreports.biz/sample/sample/212450.
Key players are identified and their plans revealed based on a host of ongoing interviews. This report is a sister report to our super capacitor report covering company strategies and the road map of new applications and markets for the devices that is enabled by forecasted improvements in performance. Over these, there is a broad master report introducing the whole breadth of the subject. The years of ongoing research carried out for these earlier reports leverages this new report on materials.
Table of Contents
1. EXECUTIVE SUMMARY AND CONCLUSIONS
1.1. Comparison with batteries
1.2. Comparison with electrolyte capacitors
1.3. Focus on functional materials
1.4. Too many customers
1.5. Faster improvement
1.6. Market for super capacitors rising faster than Li-ion batteries
1.7. Options: operating principles
1.8. What needs improving?
1.8.2. Replacing Li-ion batteries
1.8.3. Dramatic benefit from energy density increase
2. INTRODUCTION
2.1. Where super capacitors fit in
2.2. Super capacitors and supercabattery basics
2.2.1. Basic geometry
2.2.2. Charging
2.2.3. Discharging and cycling
2.2.4. Energy density
2.2.5. Battery-like variants: pseudo capacitors, supercabatteries
Inquire Before Buying Report: http://www.marketresearchreports.biz/analysis-details/functional-materials-for-supercapacitors-ultracapacitors-edlc-2015-2025
3. SEPARATORS
4. ELECTROLYTES BY MANUFACTURER
4.1. Introduction
4.2. Toxicity
4.3. Gel electrolytes
5. ELECTRODE MATERIALS AND OTHERS
5.1. Introduction
5.2. Electrodes and other materials compared by company
5.3. Materials optimization
5.3.1. Requirements to beat batteries
5.3.2. Focus on functional materials
5.3.3. Rapid demand increase
5.3.4. What needs improving?
About Us
Marketresearchreports.biz is the most comprehensive collection of market research reports. Marketresearchreports.biz services are especially designed to save time and money of our clients. We are a one-stop solution for all your research needs, our main offerings are syndicated research reports, custom research, subscription access and consulting services. We serve all sizes and types of companies spanning across various industries. For more information: http://www.marketresearchreports.biz/.
Contact Us:
Office: United States
State Tower
90 State Street, Suite 700
Albany, NY 12207
United States
Toll Free: 866-997-4948
Tel: +1-518-618-1030
E-mail: sales(at)marketresearchreports(dot)biz