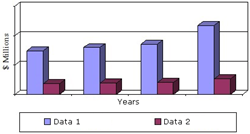 Global Market for Animal Feeds to Reach $144.4 Billion in 2018
Wellesley, Mass. (PRWEB) July 18, 2014
BCC Research (http://www.bccresearch.com) reveals in its new report, COMPOUND FEEDS AND ADDITIVES: GLOBAL MARKETS, that the global market for animal feed reached $99.7 in 2012 and $106 billion in 2013. This is expected to grow to $144.4 billion in 2018, registering a five-year compound annual growth rate (CAGR) of 6.4%.
In terms of compound feed types, the global market for compound feed is primarily driven by the pet food industry, which had a share of about 51% of the overall industry in 2013. The market is expected to be valued at $117.8 billion by the end of 2018, rising at a CAGR of 6.6%.
The Asia-Pacific market for cattle feed is expected to rise at a robust rate of 8.3% over the same five-year period, owing to factors such as shrinkage of open land for cattle grazing, urbanization and the resultant shortage of conventionally used cattle feeds, and the introduction of high-yield cattle that require specialized feeds.
"Consumers are becoming aware of the safety and nutrition content of animal food. Pet ownership is growing at a fast pace because a better economy allows more consumers to afford owning pets," says BCC Research analyst Shalini S. Dewan. "The biggest segment in the industry is pet foods, primarily driven by the introduction of health and convenience pet food. No matter how poorly the economy is performing, consumers are still willing to invest in their family pets."
COMPOUND FEEDS AND ADDITIVES: GLOBAL MARKETS provides an overview of the current and future characteristics of the global market for animal feed and feed additives. This report explores present and future strategies within the animal feed market, which includes the different types of compound feeds and feed additives. The improving market, the setbacks, and the needs of the market are also discussed in this report. Revenues are broken down by region as well as by the feed type and feed additive. Estimate figures are shown for the five-year period from 2013 through 2018. The report also covers significant patents and their allotments in each category.
Editors and reporters who wish to speak with the analyst should contact Steven Cumming at steven(dot)cumming(at)bccresearch(dot)com.
About BCC Research:
BCC Research publishes market research reports that make organizations worldwide more profitable with intelligence that drives smart business decisions. These reports cover today's major industrial and technology sectors, including emerging markets. For more than 40 years, we have helped customers identify new market opportunities with accurate and reliable data and insight, including market sizing, forecasting, industry overviews, and identification of significant trends and key competitors. We partner with analysts who are experts in specific areas of industry and technology, providing unbiased measurements and assessments of global markets. Our clients include the top companies in industries around the world, as well as universities, business schools, start-ups, consulting firms, and investment companies. BCC Research is a unit of Eli Research LLC. Visit our website at http://www.bccresearch.com. Contact us: (+1) 781-489-7301 (U.S. Eastern time), or email information(at)bccresearch(dot)com.
Data and analysis extracted from this press release must be accompanied by a statement identifying BCC Research LLC, 49-2 Walnut Park, Wellesley, MA 02481, Telephone: (+1) 781-489-7301; Email: editor(at)bccresearch(dot)com as the source and publisher. Thank you.