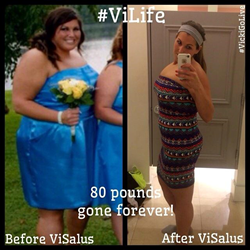 "GJ and Alita are fantastic leaders. They provide so many helpful tips, and are willing to help train my leaders. GJ and Alita want to see my entire team do well. They are great mentors."
Lexington, KY (PRWEB) July 23, 2014
Neil Haley, The Total Tutor host of the Simply G Radio show, interviewed Vicki Richardson to find out about her business and why she promotes the challenge.
Vicki, age 27, discussed how she struggled with obesity her entire life. "All of my life I wanted to be fit. I tried many different diets and they just did not work. I was unhappy with myself, and ViSalus came into my life. One of my friends wanted me to join the Challenge for 5 months. I decided to join the Project 10 Challenge and joined the gym at the same time."
Vicki lost 10 pounds her first thirty days. She saw tremendous results. Once, she lost 50 ponds, she decided to promote the Challenge.
Vicki has been so happy promoting the Project 10 Challenge. Vicki said that there have been some great transformation stories. "I am so happy to see my customers and promoters join the challenge. I am so happy being part of ViSalus. Project 10 Challenge is 10 pounds at a time to help fight obesity. I have been able to drop 80 pounds and build 10 pounds of lean muscle."
Vicki discussed the importance of doing the Project 10 Challenge with a friend. "I had an accountability partner to work out everyday with me. You should never do it alone. You should always have someone to encourage you in the gym, and with your meals. My whole team is able to encourage me to continue to transform my body. My new goal is to lose 30 more pounds."
Vicki discussed what it is like to work with GJ and Alita Reynolds, ViSalus 5 Star Ambassadors. "GJ and Alita are fantastic leaders. They provide so many helpful tips, and are willing to help train my leaders. GJ and Alita want to see my entire team do well. They are great mentors."
GJ Reynolds said, "Vicki is such a great transformation! She is another great example of how the Project 10 Challenge works. We challenge people 10 pounds at a time. I am excited to see Vicki's continued success with the Project 10 Challenge!"
You can listen to this radio interview by going to http://simplyg.com/media/simplyg-radio/.