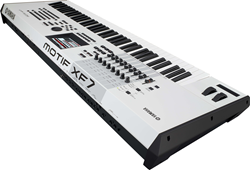 Buena Park, CA (PRWEB) July 18, 2014
Yamaha today announced the release of the stunning Motif XF Music Production Synthesizer in white to honor the company's 40th anniversary of manufacturing synthesizers.
The Motif XF in an attractive white finish will be the only Music Production Synthesizer on the market available in this color. The model offers an exclusive 40th anniversary collection of features consisting of an FL512M flash memory expansion, a USB drive with content from vintage Yamaha synthesizers and more than $1,000 in rebate offers on Yamaha products along with third party soft synths, editors and sound libraries.
This sleek white finish is ideal for performers seeking the spotlight or composers desiring a clean, modern design. The Motif XF white edition includes deep, built-in computer integration with multiple DAW and soft synth remote templates. Multi-channel connectivity is available with an optional Firewire card. Like the Motif XF in black and the MOXF, this model offers optional FlashROM and third-party support.
Yamaha introduced its first synthesizer, the SY-1, in 1974. Yamaha followed the introduction of the CS-80 polyphonic synthesizer in 1976 with the historically significant DX7 in 1983, the first commercially successful electronic keyboard, which helped shape the sound of 1980s music. The Motif has been an industry leader since its introduction in 2001. Yamaha has pioneered several innovative synthesizer technologies in the last four decades, including Frequency Modulation and physical modeling to simulate the sounds of various instruments.
The feature-packed, award-winning Motif XF comes with 741 MB of internal Wave ROM, including detailed digital recreations of two Yamaha acoustic grand piano sounds, realistic acoustic instruments, vintage synths and hip-hop sounds in demand by today's producers. Sturdy front panel knobs and sliders allow for instant sound-shaping possibilities. The Category Search function makes it easy to navigate the controls and comes with 1,664 instrument voices and 97 drum kits.
Pricing and availability:
The Motif XF series in white (Motif XF8, MSRP: $4,039; Motif XF7, MSRP: $3,539; Motif XF6, MSRP: $2,999) will ship in August, 2014.
For more information, please visit the Yamaha booth at Summer NAMM 2014, July 17-19 in Nashville, or go to http://4wrd.it/MOTIFXF40.
About Yamaha
Yamaha Corporation of America (YCA) is one of the largest subsidiaries of Yamaha Corporation, Japan and offers a full line of award-winning musical instruments, sound reinforcement and home entertainment products to the U.S. market. Products include: Yamaha acoustic, digital and hybrid pianos, portable keyboards, guitars, acoustic and electronic drums, band and orchestral instruments, marching percussion products, synthesizers, professional digital and analog audio equipment, Steinberg recording products and Nexo commercial audio products, as well as AV receivers, amplifiers, Blu-ray/CD players, iPod docking systems, home-theater-in-a-box systems, earphones, headphones, sound bars, and its exclusive line of Digital Sound Projectors. YCA markets innovative, finely crafted technology and entertainment products and musical instruments targeted to the hobbyist, education, worship, professional music, installation and consumer markets.