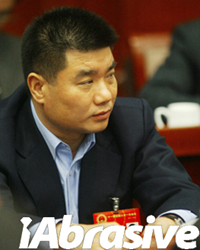 Zhengzhou, China (PRWEB) July 21, 2014
iAbrasive recently had an interview with Qiao Qiusheng, the director of Henan Huanghe Whirlwind Co., Ltd., the best synthetic diamond manufacturer in Henan province. The interview was conducted in his office.
Qiao's "Subtraction"
Before 2003 when non-government capital played an active part in socialist construction, Huanghe Whirlwind was no exception. The company decided to step into diversified development. In 2003 when Qiao was nominated the director, the company undertook a project of an express way from Arong to Shenzhen, more than 80 kilometers.
Some people tried to persuade Qiao into accepting the project. However, Qiao made an unexpected decision: Quit. Besides, he decided to stay out of all the other industries but synthetic diamond industry.
2.9 hundred million Yuan was saved from the expressway project. Qiao said, "If we hadn't quit, the company wouldn't have the prosperity it owns today. Huanghe Whirlwind also terminated the cooperation with India over paper-making industry.
Qiao's "Burning Money"
The success of a company depends on technology. Qiao employed large numbers of technicians. The company set up a R & D group and made breakthroughs in diamond field. The company has more than 20 independent intellectual property rights in synthetic diamond pressing machine.
Qiao's Working Method
The deputy general manager of Huanghe Whirlwind--Lu Guojiang introduced that within the company, Qiao's relatives are neither allowed to work for the company nor be involved in company affairs. Lu holds that avoiding petticoat influence is the basis for Huanghe Whirlwind to develop into a big and modernized enterprise.
So far, Huanghe Whirlwind synthetic diamond has six categories, including 146 products. Its annual producion can reach 15 hundred million carats, ranking the third in the world.
"We plan to gain more than ten billion Yuan in sales revenue before 2015 to compete with the first two companies in comprehensive power." Qiao said confidently. Only at this moment can we really feel the great ambition of the entrepreneur.
See more at: http://www.iabrasive.com/.