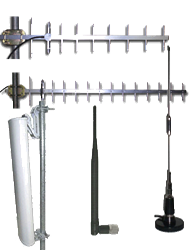 (PRWEB) July 22, 2014
The 4G LTE network application has been getting more and more popular because wireless carriers are increasing their investments in this field. ZDA Communications, a leading wireless antenna wholesaler and retailer, today introduce its new 4G LTE antenna collection.
The new 4G LTE Antenna products cover a wide range of wireless antennas like Yagi Antennas, Omnidirectional Antennas, Parabolic Antennas,Sector antennas, and Access Point (AP) and Client Antennas. The sales director of ZDA says, "Acting as a professional manufacturer and supplier, our own great reputation and much experience in WiFi antenna, Directional antennas, UHF antennas, etc.."
According to the CTO of the business, the new models' applications include US 700 MHz LTE Band & Europe 2.6 GHz LTE band, and they support 3GPP 4G LTE networks like Verizon 750 MHz C BLOCK Band (746–757 and 776–787 MHz), AT&T 700 MHz B Block band (704–710 and 734–740 MHz) and more.
ZDA Communications is a leading and reputable antenna company; the launch of the new 4G LTE antenna collection comes with much support from its business partners. ZDA has been in the industry for more than 10 years. With the fast development of 4G LTE technology, the 4G LTE products from this company can transfer the wireless signals perfectly for the consumers in an increasingly complex service environment.
Furthermore, ZDA Communications has also unveiled its 900 MHz antennas, which support Motorola canopy, Non Line of Sight (NLOS), RFID, Wireless LAN systems, Point to Point & Point to Multipoint applications, Wireless Video Links & 900MHz Cellular, RFID & SCADA, 900MHz ISM Band.
About ZDA Communications
ZDA Communications US LLC is an ISO9001 manufacturer and supplier of all kinds of wireless antennas, including Yagi antennas, Parabolic dish antennas, cell tower sector antennas, External wireless antennas, mobile antennas, Broadband and Ultra Wide Band Antennas. For more details of ZDA Communication and its products, please visit http://www.zdacomm.com/wireless-antenna-category-by-applications/lte-antenna/.