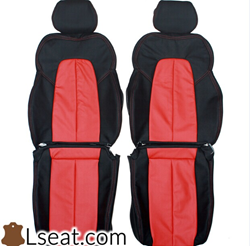 (PRWEB) July 22, 2014
Lseat.com, a professional manufacturer of auto leather interior, has recently announced its 1998-2004 Mercedes-Benz SLK230 Leather Seat Covers Summer Sale; the company is offering a special offer on all its seat covers to satisfy the growing demand for leather seat covers in the summer. Orders placed before Aug. 12, 2014 will be eligible for the discounted rates.
"We are happy to introduce the promotion for our clients worldwide. As we know, 1998-2004 Mercedes-Benz SLK cars are no more in production now. However, many car owners are worrying about where to buy suitable seat covers for their favorite cars. Now, customers can visit our website and place orders directly. Moreover, car owners don't need extra work in the installation except a few hog rings and regular tools." The sales director of the business says.
The Mercedes leather seat covers from Lseat.com differ from the simple and elegant to the ornate; all of them are made to meet different car models. They are featured with these characteristics: high quality leather, elegant looks and individuality. Lseat.com is pleased to partner with so many talented and experienced engineers who have been so important in the phase of the company's fast growth.
The sales director states, "The purchasing process is absolutely safe and effective at our website. All our products can be shipped worldwide via top carriers such as DHL, FedEx and UPS. Please note that the promotion is valid until July 12, 2014."
About Lseat.com
Lseat.com is a globally accomplished supplier of leather seat covers, and this company has developed into a modern enterprise that offers its customers around the world a one-stop seat cover solution. The business is committed to providing premium quality products at competitive rates. Now, it has been serving more than 3000 customers from over 70 countries. Visit Lseat.com for more information about the leather seat covers from this reliable manufacturer.