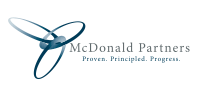 Cleveland, OH (PRWEB) July 22, 2014
McDonald Partners, LLC is pleased to announce they were named to the 2014 Top Financial 300 list by The Financial Times. The list represents the top financial advisory firms from 38 states and Washington D.C. The average firm on this list manages more than $2.8 billion and has been in business for 24 years with an average growth rate of 23% for 2013.
"We are proud and honored to be named to this list and to be in such great company," says Tom McDonald, president and CEO of McDonald Partners. "We couldn't do what we do without the dedication and loyalty of our advisors, associates and staff. This honor is truly descriptive of their hard work and passion, and further evidence of our maxim at McDonald Partners: The client comes first."
The Top 300 Registered Investment Advisors (RIA) is an independent listing produced by The Financial Times. The list is based on data gathered from RIA firms, regulatory disclosures and research conducted by The Financial Times. This prestigious listing reflects each firm's performance in six primary areas: assets under management, asset growth, compliance record, years in existence, credentials and accessibility.
About McDonald Partners, LLC:
Founded by Thomas McDonald, McDonald Partners is a full-service brokerage and investment advisory firm, offering comprehensive solutions with a customer-centric focus. From business planning to personal financial planning and investment strategies, our specialized approach allows us to create a customized plan based on the client's financial goals.
About The Financial Times:
The Financial Times, one of the world's leading business news organizations, is recognized internationally for its authority, integrity and accuracy. Providing essential news, comment, data and analysis for the global business community, The Financial Times has a combined paid print and digital circulation of almost 665,000 (Deloitte assured, Q1 2014).