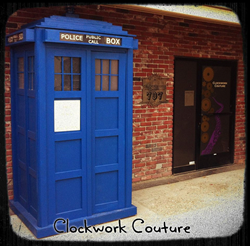 I go zooming around space and time, saving planets, fighting monsters, and being, well, let's be honest, pretty sort of marvelous. - Doctor Who
Burbank, California (PRWEB) July 22, 2014
"I go zooming around space and time, saving planets, fighting monsters, and being, well, let's be honest, pretty sort of marvelous." -- Doctor Who
Can't get enough "Wibbly Wobbly, Timey, Wimey…Stuff?"
Calling all Whovians to "The Art of the TARDIS" at Clockwork Couture on Saturday, August 9th, from 12-6pm at 707 S. Main Street in Burbank.
Time Lords, Daleks, Weeping Angels…Raxacoricofallapatorius…flaunt your knowledge of the Whoniverse or simply have a cuppa and shop for handmade items created by local craftspeople.
Over 25 vendors will offer their unique Doctor Who-themed wares including Disney artist Brian Kesinger, plus food trucks and the music of Awesome City Limits will gather outside L.A.'s finest Steampunk shop. This free, family-friendly event offers coloring pages for the littlest Who fans and a costume contest with Whoriffic prizes. Grab your favorite scarf, bow tie or Sonic Screwdriver and have your photo snapped (don't blink!) in a full-size TARDIS or with a TARDIS console. Fun for your inner Gallifreyan.
Allons-y!