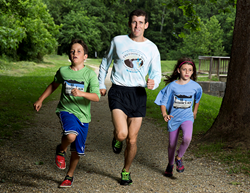 The class II medical distinction refers to the sock providing a medium level of compression around the entire lower leg.
Brentwood, Tenn. (PRWEB) July 21, 2014
Swiftwick, a leading U.S. producer of athletic compression socks, announces today the addition of its HEALTH+ Medical Class II graduated compression sock which provides compression from the ankle to below the knee, improving blood flow in the lower leg.
"The class II medical distinction refers to the sock providing a medium level of compression around the entire lower leg," said Dr. Mark Cucuzzella, professor at the West Virginia University School of Medicine and executive director of Natural Running Center. "The Swiftwick HEALTH+ Medical Sock is an improvement over the standard medical sock with a level of compression that can reduce fatigue, swelling and discomfort all day. Keeping the feet cool and dry prevents bacterial growth which is an integral part of comprehensive foot care, especially if the patient is at risk of or being treated for infection."
The HEALTH+ Medical socks offer 132 needle-count graduated compression and will be sold online, through wellness centers, clinics and medical distributors, making them available to anyone in need of an affordable class II compression sock. The plush foot bed increases comfort and highlights Swiftwick's careful attention to antimicrobial and moisture-wicking capabilities.
"It was a natural progression to make the leap from serving athletes to serving medical patients because our socks are meant to provide everyone with comfortable feet," said Mark A. Cleveland, CEO and co-founder of Swiftwick. "Other medical socks on the market are expensive and uncomfortable. We created a first of its kind medical class II graduated compression sock at the lower price point of $24.99 that offers the highest quality materials to truly be able to make a difference for consumers."
The HEALTH+ Medical Sock also includes Fortify AM® and StaCool® technology, which protects the sock from destructive and odor-causing bacteria, mold, mildew and fungus.
Brad Seese, director of marketing and product development for Fiber and Yarn Products, Inc, said, "We are excited Swiftwick has selected our cutting edge technologies, Fortify AM® and Sta Cool®. Fortify AM technology is an excellent product for odor control using a minimal amount of active ingredients that are gentle on the environment."
Manufactured in the USA, the combination of Fortify AM® and StaCool®, an advanced technology specifically engineered for extreme moisture management, provide state of the art performance and comfort.
The HEALTH+ Medical Sock also helps prevent pooling of blood in the legs by controlled pressure and is used to address the risk of deep vein thrombosis (DVT), edema and leg discomfort in individuals subjected to immobility. According to the American Heart Association, sedentary jobs have increased 83 percent since 1950. These ailments the HEALTH+ Medical Sock prevents can affect individuals in a variety of industries.
"Why does Southwest Airlines provide compression socks as a benefit for each employee every year?" asks Cleveland. "Because both the airline and medical professionals understand that extended periods of inactivity, such as sitting in a cockpit or a truck, followed by bursts of activity creates risks. Pilots, flight attendants, professional truck drivers and all types of travelers will benefit from our new affordable HEALTH+ medical compression sock."
The HEALTH+ Medical Sock is sold for $24.99.
About Swiftwick
Founded in January 2008, Swiftwick is headquartered in Brentwood, Tenn. The company is a performance sock manufacturer that proudly employs an American workforce in high-quality textile manufacturing. Swiftwick is an innovator in designing and producing superior socks. The company has a culture focused on manufacturing through environmentally friendly means, social responsibility and leading customer service. Learn more at http://www.swiftwick.com.
About Dr. Cucuzzella, MD, FAAFP
Dr. Mark Cucuzella is a Family Physician at Harpers Ferry Family Medicine and Associate Professor at West Virginia University School of Medicine. He is the chief medical consultant for the Air Force Marathon (http://www.usafmarathon.com) and a Lt Col US Air Force Reserves. His passion for health extends beyond the walls of the clinic into the medical home's "backyard"- the trails and open space that create the arena for optimum wellness.
Medical Class II Indications
For mild varicose veins, post-surgery, poor blood circulation, leg discomfort, mild to moderate swelling, tired and aching legs. Helps prevent Edema. Helps prevent Deep Vein Thrombosis for long distance travelers.