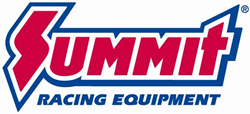 Tallmadge, OH (PRWEB) July 30, 2014
Give a late model car or truck a little "cram session" before an emissions test. Mr. Gasket Cataclean is a fuel and exhaust system cleaner independently tested to reduce total hydrocarbon emissions by up to 50 percent (performance results vary based on vehicle condition and driver habits). Simply pour the 16 ounce bottle into the vehicle's fuel tank and it goes to work reducing carbon buildup in the catalytic converter, oxygen sensors, cylinder heads, and fuel injectors.
Cataclean can restore performance, extend engine life, and solve issues like hard starts and hesitation. This fuel additive is also a great pre-treatment if you have to go in for regular emissions testing.
Cataclean doesn't affect fuel composition and is safe for use in gasoline, diesel, and hybrid engines.
SEE MR. GASKET CATACLEAN AT SUMMIT RACING
Summit Racing Equipment
http://www.SummitRacing.com
1-800-230-3030