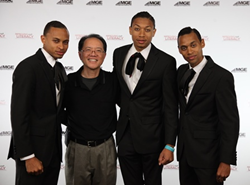 San Francisco, CA (PRWEB) July 22, 2014
Russell Young DDS and Office Manager of SF Star Dental, Candy Choi, along with concerned leading Dentists from across the nation gathered at the MGE Management Experts Benefit Dinner May 30, in St. Petersburg, FL. Government officials and community leaders joined the Dentists to raise funds for the Improving Youth Literacy Campaign in support of the Boys and Girls Clubs and Youth Programs across America. The funds raised are providing hundreds of thousands of young people with books and audio books to directly tackle illiteracy and help to break the cycle of poverty
Notables who attended supporting literacy were: Florida Congresswoman Corrine Brown, Jim Coats - former Pinellas County Sherriff and Board Member for the Boys and Girls Clubs of the Suncoast, Susan L. Valdes - Vice Chair Hillsborough County Public School Board, Kim Sharpe - practicing Business and Commercial law with Johnson Pope Law Offices and running for Sixth Circuit Court Judge, Group 16, Amy Ronshausen - Deputy Director of both the Drug Free America Foundation, Inc. and Save Our Society From Drugs (S.O.S.), Lt. Col. Kirk Kumagai - U.S. Marine Corp (ret), Senior Marine Instructor of the Clearwater High School Marine Corp Junior Reserve Officers Training Corp, Reverend Alfreddie Johnson - Founder World Literacy Crusade and Imam Willmore Siddiq - Spiritual leader, educator, and leader of the program "Putting the Neighborhood back in the Hood"
At an MGE conference in March, leading dentists and their executive staff met to analyze and take action against one of their major business issues - hiring qualified staff in these times of extraordinarily high unemployment numbers. They isolated illiteracy of applicants as a common denominator to the problem.
According to the Family Scholarly Culture and Educational Success research, access to books is key to reading skills. Studies confirm that the number of books in the home directly predicts reading achievement.
One study found that in middle income neighborhoods the ratio is 13 books per child; in low-income neighborhoods, the ratio is one book for every 300 children.* And, price is the #1 barrier to book ownership.
"Analysis of the most statistically accurate and comprehensive study of U.S. adult literacy ever conducted proves that 48.7 percent of U.S. adults are functionally illiterate, defined as being unable to hold an above-poverty-level-wage job. We believe illiteracy is a major source of economic destruction in this country and are determined to help fix the problem," said Dr. Young.
A highlight of the event was the entertainment provided by a phenomenal high-energy trio of brothers AKNU (A Kind Never Understood) who flew in from Los Angeles to help with the fund raising. With astonishing moves and incredible vocal talent they performed original material and popular hits putting the gathering in high spirits for the live auction. The group was featured on X Factor and has just released an EP independently on Amazon and iTunes titled "A Kind Never Understood".
The hundreds of thousands of books raised during the event are going directly into the hands of young people in need through the Boys and Girls Clubs and the Young Adults Library Services Association.
MGE Management Experts, Inc. located in St. Petersburg, FL, offers business and marketing training to the owners of dental practices. The training is based on the administrative technology of L. Ron Hubbard that is used in more than 100,000 companies and organizations across the globe to their benefit and prosperity.
About SF Star Dental
SF Star Dental, a full service dental facility, has been serving the San Francisco Bay Area for over 20 years. Their talented team of professionals offers meticulous, uncompromising, and personalized services and attention to the needs of their patients and their families. SF Star Dental is committed to service, education, and health, so that their patients can arm themselves to keep their teeth and gums healthy for life. For more information, visit http://www.youngdazzlingsmiles.com or call 415-928-8288.
Sources:
*Neuman, Susan B. and David K. Dickinson, ed. Handbook of Early Literacy Research, Volume 2. New York, NY: 2006 - http://www.ifla.org/files/assets/libraries-for-children-and-ya/publications/Genco.pdf
Evans, M. D. R., et al. Family scholarly culture and educational success: Books and schooling in 27 nations. Research in Social Stratification and Mobility (2010), doi:10.1016/j.rssm.2010.01.002 - http://www.sciencedirect.com/science/article/pii/S0276562410000090