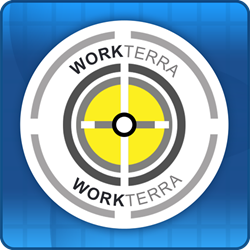 Our Affordable Care Act (ACA) tools will enable our clients to ensure compliance with all aspects of ACA...We are happy to deliver this to our clients at no additional cost. - David Rhodes, CEO WORKTERRA
(PRWEB) July 23, 2014
WORKTERRA, a leading provider of Human Capital Management software solutions, announces the release of its proprietary Affordable Care Act (ACA) Dashboard. The constantly evolving requirements of Health Care Reform have many employers searching out industry leading technology to help with their healthcare administration process. WORKTERRA's ACA Dashboard delivers an intuitive platform built to solve compliance requirements with full visibility of and control over ACA tracking and reporting.
"Our Affordable Care Act (ACA) tools will enable our clients to ensure compliance with all aspects of ACA. Our ACA Dashboard provides an easy-to-use interface for our clients that allows them to do such things as: model their look back and stability periods, run all required reports, and proactively manage their part-time populations. We are happy to deliver this to our clients at no additional cost." – David Rhodes, CEO WORKTERRA.
WORKTERRA's ACA compliance solution is a part of our benefit administration and enrollment application and is designed to eliminate complexity, control costs and manage reporting through a single, easy-to-use interface. The ACA Dashboard offers easy to understand charts, graphs and reports providing employers with real-time insight and all the tools needed to full manage their ACA requirements. Understanding that no organization's needs are alike, the fully configurable application enables administrators to set look back, stability and administrative periods and can be set to automatically determine the status of employee eligibility.
Key features and capabilities include:

Look Back & Stability Period tracking and scheduling
Look Back & Stability modeling
Full Time Equivalents (FTE) Estimator
All reporting requirements (W2, 6055, 6056)
Wellness Program Management
Summary of Benefits Coverage
Exchange Notification
Employer Shared Responsibility
Flexible Spending Accounts (FSA) limits
About EBS - WORKTERRA Founded in 1987, Employee Benefit Specialists, Inc. (EBS) provides state-of-the-art online enrollment and benefit administration services. In 2005, EBS used its considerable experience in benefits administration and technology knowledge to create its proprietary WORKTERRA™ online eligibility system. WORKTERRA is a HIPAA compliant, SSAE16 certified, cloud based platform that utilizes the latest technology to bring together all functions of benefits administration into one application. Our proprietary, flexible approach supports automated integration to carriers and payroll systems, which creates a single key, paperless environment for our clients. It allows clients to manage their human resource functions more smoothly in an easy-to-use, technologically forward system.
For more information about EBS and WORKTERRA, please visit us at http://www.workterra.com.
Copyright © 2012 Employee Benefit Specialists, Inc.