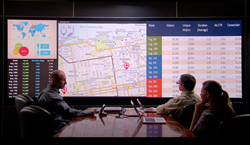 San Jose, CA (PRWEB) July 22, 2014
Who: Prysm, Inc.
Where: Embassy Suites Raleigh-Durham/Research Triangle
When: July 23, 2014
At ClarkPowell Fusion, Prysm, Inc. will demonstrate its Cascade collaboration video wall solutions that combine state-of-the-art hardware, software and network services for telepresence, content sharing, video and web apps. Built on the foundation of Laser Phosphor Display (LPD) technology, Cascade video walls offer clear viewing from all angles of the room, low eye-strain, run cool to the touch and plug into standard electrical outlets. Cascade digital displays provide an unparalleled viewing experience, offering the perfect combination of size, resolution and brightness. The complete Cascade line serves the boardroom to the two-person huddle room and enables organizations to improve workflow, streamline communications, increase productivity and accelerate decision making.
About Prysm Inc.
Prysm is a Silicon Valley-headquartered company delivering total display solutions that create unrivaled immersion and engagement. Combining groundbreaking hardware, software and services, Prysm is revolutionizing the world of large-scale displays. Prysm's Laser Phosphor Display (LPD) platform is a key foundational technology that makes possible breathtakingly beautiful, scalable and versatile video walls. Prysm display solutions serve major brands worldwide including leaders in technology, retail, financial services and media as well as governments and universities. Prysm has a global sales and support network with offices in Boston, Chicago, Indianapolis, New York, San Jose, London, Bangalore, Dubai and Beijing. Learn more at prysm.com.