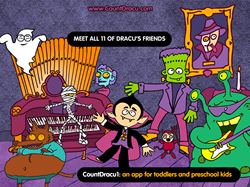 Count Dracu Jr. (a friendly vampire from Toronto, Canada) teaches kids about appreciating people of different ethnic origins.
Toronto, ON, Canada (PRWEB) July 23, 2014
Popcorn Grenade is proud to announce the release and immediate availability of CountDracu1, a storybook / adventure game app for toddlers and pre-school kids (ages 2 to 5). The app is meant to be played on tablets and smartphones.
The app stars Count Dracu Jr. (a friendly vampire from Toronto, Canada), as he takes kids through his house and introduces them to his circle of multicultural friends; there's Frankie the Jewish Frankenstein, Raggy the Egyptian mummy, Howie the Ukrainian werewolf, Yetinder the Indian yeti, and many more lovable characters.
Each of his friends are missing something, and kids to help Count Dracu find it. Also collect all the medallions, and they'll get a chance to win a prize at the end of the game.
Features:

Kids get to move Count Dracu Jr. through each of the rooms, transform him into a bat (by double tapping on him), as well as interact with each of Count Dracu's friends, using simple touch and drag actions.
Meet 11 zany characters from around the globe - each with their own accent and puzzle to solve
Teaches kids about problem solving, as well as to appreciate different ethnic accents
The app can be used as a storybook app, where-by kids can mute Dracu's voice, and read the storybook by themselves (iPad feature).
Quirky animations that come to life with a touch of a finger
Vibrant and colorful graphics and illustrations!
Enchanting music and wacky sound-effects
Designed for toddlers & preschoolers (ages 2 to 5 years) - no confusing menus or navigation. No links outside of app (complies with COPPA - Children's Online Privacy Protection act).
If kids collect all the medallions, and reach the end of the game, they'll get a chance to win a 17" Count Dracu Plush Doll, as well as other great prizes.
CountDracu1 is the first in series of childrens' apps created by Canadian illustrator, animator, and programmer Denny Kurien. He and his wife, Mary, run a small, independent, mom & pop shop in Toronto that produces early-learning apps for toddlers and pre-school kids (2 - 5 year olds).
Pricing and Availability:
CountDracu1 sells for $0.99 on the App Store, and is also available on the Android, and Kindle. CountDracu1 LITE is available for free, whereby users get to try out the first 4 levels of the app, before the decide to buy it. Keep your eyes out for more apps and online videos staring Count Dracu and his friends. For more info, please visit http://CountDracu.com.