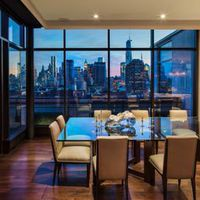 Pompano Beach, FL (PRWEB) July 23, 2014
"Jon Bon Jovi's New York Penthouse"
Jon Bon Jovi's Soho Penthouse is now for sale and featured this week on the Top 10 homes spotlight at TopTenRealEstateDeals.com.
Most people know Jon Bon Jovi's music such as "Slippery When Wet" and "Destination Anywhere" along with his soundtracks for "Young Guns II" and "Stand Up Guys," not to mention the sold-out concerts and ten major awards his productions have won. Many people are also aware of his acting in films such as "Moonlight and Valentino" and TV appearances on shows such as "Sex and the City." But there's so much more to know about Jon Bon Jovi.
Jon married his high school sweetheart, Dorothea, almost 25 years ago. They have four children, have stayed married and are one of the country's most generous couples, very active in the Special Olympics, American Red Cross, Elizabeth Glaser Pediatric AIDS Foundation, Habitat for Humanity, Covenant House, Project H.O.M.E. and the Jon Bon Jovi Soul Foundation. The Bon Jovis have donated millions of their money and much of their time for charity, then have gone out and worked side by side with the people to execute these projects. Even wielding a hammer or washing a dish where needed. Jon was also appointed by Barack Obama to the new White House Council for Community Solutions. Jon is not just another rock star.
If a person's home is the mirror of the person themselves, Jon and Dorothea seem to do everything well. Now up for sale is the Bon Jovi's 7,452-square-foot New York Soho duplex. With huge glass walls and terraces seen from almost every room, the layout is unusually well thought out. The family part of the apartment is on the lower floor with a great room, wood-burning fireplace, marble baths, dining area and a gourmet kitchen. There are five bedrooms on the first floor including the master bedroom suite with rare arched windows.
The upper level includes formal living and dining rooms and access to the home's grand terraces with lush landscaping and panoramic New York views. Also on the second floor is another kitchen, screening room, guest room, fireplace, full bath and a powder room.
The Bon Jovi apartment is located in the New Museum Building, one of the tallest structures in Lower Manhattan with 12 floors. The building was constructed in 1897 as offices, became the New Museum of Contemporary Art in 1996, and later converted to condominiums.
In the mid 1900s, Soho was one of New York's most distressed neighborhoods as its deep industrial base began to erode. Starting in the 1960s, Soho was transformed from the mostly deserted remnants of the city's big textile factories into artists' and hipsters' lofts. Today, it is near the top of any list of U.S. upscale neighborhoods with art galleries, shops and expensive homes. Other celebrity Soho residents include Kelly Ripa, Justin Timberlake and Ariana Huffington.
The penthouse, including furniture and great views, is priced at $37.5 million. The listing agents are Raphael De Niro of Douglas Elliman and Leonard Steinberg of Urban Compass.
Visit TopTenRealEstateDeals.com for more celebrity, historic, famous and spectacular homes.