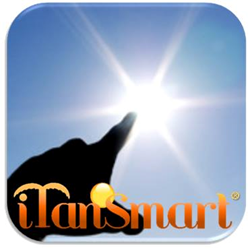 The app is straightforward to use, and it emphasizes safety over tanning, so it gets a big thumbs up from me.
Fort Myers, FL (PRWEB) July 25, 2014
iTanSmart is a patented iOS suntan app for Apple iPhones, iPods, and iPads. The app provides a tailored approach to eliminating the guesswork from sun exposure, preventing painful and potentially dangerous sunburns and skin damage. In his review, Eaton had positive things to say about the sights, sounds, and capabilities of iTanSmart.
Eaton begins his commentary on iTanSmart by describing the app as a 'better organized' and 'great alternative' to its related Android competitor. He emphasizes that all of iTanSmart's functions can be controlled from the main screen, making the app straightforward and simple-to-use. From this single screen, users enter 4 personal criteria:

Sunburn prevention only, or suntan management with sunburn prevention
Skin type (from very fair to dark brown)
Sun protection factor (SPF and/or PFA)
Location type (environment and directness of sunlight)
Eaton also mentions that iTanSmart measures the UV levels in the user's location to determine sun exposure limits. In fact, iTanSmart uses real-time UV Index data from the EUMETSAT space satellite to determine these levels. Users can even use the app to look up the UV Index in other locations and see a 4-day UV forecast. This feature is useful for avid sunbathers and for those that are planning vacations. By viewing the UV Index forecast of a planned destination, the iTanSmart user can travel prepared with the appropriate SPF and outerwear.
Eaton mentions that iTanSmart is $1.99. He may not have realized that a free version of the app with many of the same critical features does exist. The full paid version additionally provides a list of medical conditions and related drugs that increase one's sun sensitivity, tracks users' total daily sun exposure and Vitamin D production, offers specialized settings for children, and blocks advertisements.
Just as Eaton mentions, everyone knows the dangers of sun overexposure. With that in mind, a simple download can provide protection from sunburns, skin damage, and even skin cancer. iTanSmart works on iPhones, iPods, and iPads to take the guesswork out of sun exposure.
View the full New York Times article here.
If you would like further information on iTanSmart, please contact:
UV Technologies, LLC
iTanSmart in Apple App Store
Email: sales(at)itansmart(dot)com
iTanSmart website
+(941) 548-7964
About UV Technologies, LLC:
UV Technologies, LLC's mission is to provide innovative products for customers' health and well-being. iTanSmart is a sun tan application developed for Apple iPhones and iPods. UV-Aid helps prevent cold and flu. UV Technologies is an accredited business member of the Better Business Bureau. Visit http://www.uvaid.com for more information.