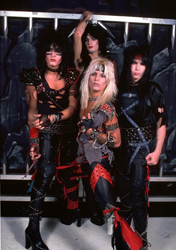 Denver, CO (PRWEB) July 23, 2014
It is said boys will be boys, a statement the crew of heavy metal glam band Mötley Crüe take very seriously. In fact, the boys are so good at being bad, each is noted for their hard-living, hedonistic lifestyle and the daring, destructive personas they have pursued.
All have had repeated run-ins with the law and spent time in prison. Each has suffered from alcoholism and long addictions to drugs such as cocaine and heroin. And, of course, all have had countless high-profile escapades with women and are heavily tattooed.
During their careers, they have also amassed worldwide album sales exceeding 80 million, garnered seven Platinum or multi-Platinum albums, 22 Top 40 mainstream rock hits, six Top 20 pop singles, three Grammy nods, four New York Times bestsellers and countless sold out tours around the world.
"The band's ninth and most recent studio album, Saints of Los Angeles, was released in June of 2008 and was certified Gold in January 2012. But, after more than 30 years of heavy metal, Mötley Crüe say they've had enough and that this is their farewell tour," said Marta Ault at online discount ticket marketplace BuyAnySeat.com.
In the meantime, legions of fans, fearing potential withdrawal symptoms, have gone on a massive ticket-buying binge to witness their farewell blast with renowned rocker Alice Cooper, aka the Godfather of Shock Rock.
The glam metal group's last hurrah, dubbed The Final Tour, opened earlier this month and has been scheduled to hit 67 cities in 38 states throughout the summer and fall after opening at the Van Andel Arena in Grand Rapids, Michigan. The current wrap is set for the Spokane Arena in Spokane, Washington on November 22, 2014.
"Mötley Crüe has been one of the top discount concert ticket sellers nationally over the last few weeks," added Ault. "That's why we're proud to offer fans a complete and continuously refreshed inventory of concert tickets, with a Worry-Free Guarantee to protect their purchase."
"To access the full listing of cheap Mötley Crüe tickets we now have available, customers can go to BuyAnySeat.com and search for Mötley Crüe – then select their tickets."
The group was formed in Los Angeles, California in 1981 by bass guitarist Nikki Sixx and drummer Tommy Lee, who were later joined by lead guitarist Mick Mars and lead singer Vince Neil. Over they years, they have become known as the world's most notorious rock band and one of the world's best-selling groups of all time.
In a press conference before the tour, Neil, Mars, Lee and Sixx each signed a "cessation of touring agreement". They sat next to tombstones bearing their names and had a lawyer present while cameras rolled.
The band's opener, Alice Cooper, has attained widespread commercial success as well. Known for his stage shows featuring guillotines, electric chairs, fake blood, boa constrictors and baby dolls, Cooper has drawn equally from horror movies, vaudeville, and garage rock to pioneer a grandly theatrical and macabre brand of rock designed to shock.
His work consists of 26 studio albums, 46 singles, 10 live albums, 21 compilation albums, 12 video releases, and an audiobook. Six of his studio albums have achieved platinum status in the United States, while two have achieved gold status.
Cooper has also been nominated for two Grammy Awards since his first official release, Pretties for You, in 1969. His latest studio release was 2011's Welcome 2 My Nightmare. Cooper was inducted into The Rock and Roll Hall of Fame in 2011 as well.
New music is on the table too. Lee recently told Billboard that the band just recorded a new track, "All Bad Things Must End," which is expected to be released in concordance with the tour. The tour will also serve to promote an upcoming country-music album paying tribute to the band, due for release in summer 2014, and their movie "The Dirt", due for release in 2015.
To shop for discount Mötley Crüe tickets, visit BuyAnySeat.com.
About BuyAnySeat.com: An online discount ticket marketplace, BuyAnySeat.com connects sports, theater and other live entertainment fans to an extensive worldwide network of ticket sellers. The site's simplified listings and navigational tools enable fans to easily locate, compare and purchase inexpensive, discounted or lower-priced tickets to virtually all advertised sports and entertainment events around the globe.
The ticket marketplace, which is PCI-compliant and Norton Secured, also provides customers with a complete Worry-Free Guarantee on all ticket purchases. Based in Denver, Colorado, BuyAnySeat.com is a subsidiary of Denver Media Holdings. For more information, please visit http://buyanyseat.com.