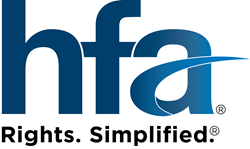 As a startup, we appreciate how the Slingshot service will make it easy to administer and facilitate our rights management needs, allowing us to focus our attention on building our business. - Robert Taub, Founder & CEO of MuseAmi
New York, NY (PRWEB) July 28, 2014
HFA, the nation's leading provider of rights management solutions for the music industry, has been selected by tech innovator MuseAmi to provide a full range of rights management services to support its newest iOS application, Hook'd.
MuseAmi, founded by acclaimed concert pianist Robert Taub, created Hook'd, a social music app that invites users to record short video performances of their favorite songs and share them with a friend or the world. Available now on iTunes, Hook'd employs real backing tracks and MuseAmi's proprietary audio processing technologies, including the same voice enhancement technology such as pitch correction and reverb that artists use in the studio, to offer easy and enjoyable ways for fans to engage with their favorite artists.
HFA's Slingshot will provide MuseAmi with a full suite of rights management services including licensing administration, data management, royalty processing and rights holder payments that will streamline the licensing and royalty process for the tech company. Tapping into Slingshot allows music distributors like MuseAmi to focus on their core businesses by eliminating the need to manage thousands of licensing relationships, invest in designing and maintaining rights databases, employ experienced copyright administration staff and program complex royalty formulas.
Michael Simon, President and CEO of HFA, commented, "HFA is committed to maximizing opportunities for songwriters and music publishers as well as supporting the growing mobile eco-system and we are looking forward to working with MuseAmi on the launch of its new mobile app, Hook'd."
"Hook'd is a unique app that features master backing tracks to which music fans can record and share their own authentic performances," said Robert Taub, Founder and CEO of MuseAmi. "As such, our relationships with our music industry partners are the backbone of our business, and HFA is an integral piece in managing those relationships. As a startup, we appreciate how the Slingshot service will make it easy to administer and facilitate our rights management needs, allowing us to focus our attention on building our business."
About HFA
HFA is the nation's leading provider of rights management, licensing and royalty services for the music industry. With over 48,000 music publishing clients, HFA issues the largest number of licenses for the use of music in both physical and digital distribution formats. Slingshot, HFA's rights management service offering, includes a suite of information management and technology solutions designed to simplify and facilitate the administration of intellectual property rights. HFA also serves the D.I.Y. market with Songfile®, the company's fast and easy online licensing tool. As a technology innovator, HFA is leading the industry in establishing global data standards and is a founding member of the Digital Data Exchange (DDEX). Additionally, for the past five years HFA has been recognized by InformationWeek on its Top 500 Relentless Innovators list. For more information about HFA visit harryfox.com and hfaslingshot.com.
Songfile, eMechanical and eSong are registered trademarks of The Harry Fox Agency, Inc., all rights reserved.
About MuseAmi
MuseAmi is a growing, privately held music technology company based in Princeton, N.J. The company was founded in 2007 by renowned concert pianist Robert Taub to enhance the ways individuals create, collaborate, learn and share music. With a team of industry leaders in the fields of music, machine learning and audio signal processing, MuseAmi creates highly efficient software to detect, analyze, and categorize visual and audio inputs in real world contexts. The company has developed significant intellectual property and has been awarded several patents that the company commercializes with its world-leading strategic partners. MuseAmi's commercially available apps include ImproVox, a "vocal instrument" app, and the newly released Hook'd app.