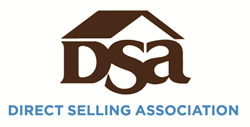 Direct selling in the United States is an important part of the economy for millions of Americans who benefit in a variety of ways.
Washington, D.C. (PRWEB) July 23, 2014
The U.S. Direct Selling Association (DSA) today announced the findings from its annual Growth & Outlook Survey, which found that estimated retail sales for direct selling increased 3.3 percent to $32.7 billion in 2013, compared to $31.6 billion in 2012. Additionally, the number of individuals who participated in direct selling rose 5.7 percent to 16.8 million in 2013, compared to 15.9 million in 2012.
"Direct selling in the United States is an important part of the economy for millions of Americans who benefit in a variety of ways, ranging from buying their favorite products at a discount to earning supplemental or full-time income," said DSA President Joseph Mariano. "Strong growth in this sector indicates consumers are seeking unique, quality products and services, and also value the personal interaction and service that are cornerstones of the direct selling model."
Diversity in the range of products and services available through direct selling also contributed to the industry's growth in 2013. The wellness and services categories continued to increase in market share, comprising 28.5 percent and 22.9 percent of sales, respectively.
"Energy deregulation has opened up a competitive market that is well suited to the direct selling model, which relies heavily on personal recommendation," noted Mariano. "Direct selling is a smart, go-to-market strategy for many products, especially those that benefit from explanation or demonstration. In the case of utilities, most Americans aren't used to having a choice in their provider, so they need guidance to make an informed decision."
Across the country, direct selling companies play an active and beneficial role in their communities. Sixty-five percent of direct selling companies manufacture or assemble products in the United States and 29 percent have laboratories in the United States. Direct selling companies employ more than 50,000 people and company leaders are strong supporters of giving back to their communities through volunteer work. In 2013 alone, company employees and independent contractor salesforce members donated more than 100,000 volunteer hours.
According to the 2013 Amway Global Entrepreneurship Report, the concepts of being one's own boss and the chance for self-fulfillment through direct selling are appealing to many Americans. Fifty-six percent of U.S. respondents to the global study said they have a positive attitude toward entrepreneurship. With regard to direct selling specifically, motivations are diverse with 57 percent of direct sellers citing the ability to buy products at a discount as a reason for becoming a direct seller, while others mentioned flexibility (54 percent) and long-term supplemental income (48 percent).
"Direct selling is a global force for good," said Mariano. "We touch lives in every corner of the globe, but most importantly, here in the United States direct selling is the answer to a variety of needs for people from every walk of life. It combines sound business with a focus on people and that is a powerful combination."
More information on DSA's 2013 Growth & Outlook Survey is available at http://www.dsa.org/research/industry-statistics.
About the Direct Selling Association
DSA is the national trade association of the leading firms that offer entrepreneurial opportunities to individuals as independent contractors to market and/or sell products and services, typically outside of a fixed retail establishment, through one-to-one selling, in-home product demonstrations or online. Compensation is ultimately based on sales and may be earned based on personal sales and/or the sales of others in their sales organizations.
Direct sellers may be called distributors, representatives, consultants or various other titles. They may participate in various ways, including selling the products themselves or through their sales organizations, providing training and leadership to their sales organizations, referring customers to the company and purchasing products and services for personal use.
For more information on direct selling, DSA and its Code of Ethics, please visit the DSA website at http://www.dsa.org.