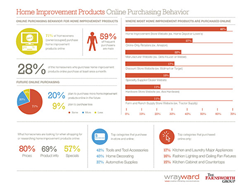 This study gives companies and brands invaluable insight into home improvement categories being purchased online and the drivers that motivate homeowners.
Charlotte, N.C. (PRWEB) July 22, 2014
A new study from The Farnsworth Group indicates that the majority of homeowners are purchasing home improvement products online. Extensive data from the study will help manufacturers and retailers gain a better understanding of homeowners and make strategic, calculated marketing decisions.
"Manufacturers that primarily sell to home improvement retailers, distributors and dealers often have little data on how much is ultimately sold online," said Kent Panther, vice president of strategic planning at Wray Ward. "This study gives companies and brands invaluable insight into home improvement categories being purchased online and the drivers that motivate homeowners."
The study from The Farnsworth Group, a firm specializing in custom market research for the hardware, home improvement, construction and building material industries, examined online purchasing behaviors among homeowners across a variety of categories such as plumbing fixtures, tools, appliances, lawn and garden products and paint. Insights included overall online purchasing habits, effects of gender and age, reasons for purchasing online and where products were purchased.
The Farnsworth Group found that 71 percent of all homeowners have purchased at least one home improvement product online within the past 12 months. Motivating factors vary by product category, though most homeowners listed "better prices than in store," "more convenient" and "delivered to my door" as key reasons for purchasing home improvement products online. Homeowners' tendency to purchase online varies substantially by product category; tools and accessories led the way at 54 percent, while only 13 percent of those who purchased fashion plumbing products bought them online.
The study indicates that while consumers are purchasing home improvement products from a broad range of websites, home improvement store websites such as Home Depot and Lowe's lead the way, as 46 percent of homeowners purchase products from these merchants online.
Additional information gleaned includes how often the manufacturer's site provided a link to an online retailer or store that carries the product. The study also uncovered interesting correlations between online shopping frequency and purchasing habits. For example, those who shop online every two to three weeks appear to be most likely to make an online purchase.
"The future for companies and brands selling home improvement products online looks bright. In fact, one in five homeowners expects to purchase more online in the future, and having data that is both industry and category-specific will help make the future even brighter," said Brad Farnsworth, president and CEO of The Farnsworth Group. "We're excited to share these results."
To obtain additional results from this study, contact The Farnsworth Group at sales(at)thefarnsworthgroup(dot)com or 866-773-2726 x301, or contact Wray Ward at kpanther(at)wrayward(dot)com or 704-332-9071. For more home marketing insights from Wray Ward, follow our blog.
About Wray Ward
Wray Ward is the home of passionately creative thinkers. The creative marketing communications agency serves clients in categories from home to healthcare and automotive to energy, with a specialty in building brands that elevate the style, comfort and function of the American home. With a deep integration across service offerings, including insights, strategic brand planning, media planning and buying, advertising, digital, public relations, video production and search, Wray Ward delivers intelligent, engaging and results-driven work.
The agency's clients include Belgard® Hardscapes, BRITAX USA, Crescent Communities, Dal-Tile Corporation, Duke Energy, Huber Engineered Woods, Glen Raven Inc. and its Sunbrella® brand, La-Z-Boy Casegoods, TUUCI®, VELUX® and WIX® Filters. wrayward.com | @wrayward