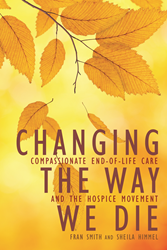 "This book belongs in every public and health-care library in America."—Library Journal
(PRWEB) July 23, 2014
Once viewed with suspicion as a New Age indulgence or fringe religious practice, hospice has become a $14 billion-a-year business and arguably the most successful segment of health care in America. In Changing the Way We Die, award-winning journalists Fran Smith and Sheila Himmel investigate what hospice means to today's aging population and their families. It's the first book to take a sweeping look at the hospice landscape, reporting the stories of patients, caregivers and cutting-edge researchers, as well as the corporate giants that increasingly own this market. Changing the Way We Die is now also available as an audiobook.
Library Journal gave Changing the Way We Die a starred review in the July issue. "By explaining the hospice alternative to the more common hospital death, the authors ask us to consider our own deaths and how we will go about making decisions when end of life is not just inevitable but imminent," Janet Tapper, of Library Journal, writes.
About the overall book, Tapper states, "This book belongs in every public and health-care library in America."
See Fran Smith and Sheila Himmel at these upcoming events:
8/26: New York Public Library - 6:30pm
10/27: The Commonwealth Club of California, San Francisco - 4:30pm