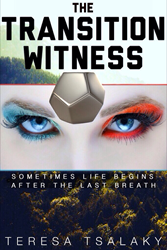 Sometimes life begins after the last breath
(PRWEB) July 24, 2014
A new book in a new genre is showing the power of fiction to help envision a better future.
In spite of being a debut novel published independently as an e-book with almost no promotion, The Transition Witness hit an Amazon top 50 list within two weeks and a top 10 list within a month.
That combination is almost unheard of, according to author Teresa Tsalaky, who said other independent authors are already contacting her to ask how she achieved such a successful launch.
The book will be in print on Aug 15.
It's part of a genre called visionary fiction, which emphasizes the transformation and evolution of humanity. The genre is so new that even Amazon, the world's largest bookseller, has not yet created a separate category for it. But according to the Visionary Fiction Alliance, interest in the genre is growing rapidly.
"People are hungry for good fiction that feeds the soul," Tsalaky said. "I think The Transition Witness just hit the right combination of literary dynamism and a message that's ripe for our times."
The novel – the first in a trilogy – is about a woman who verifies the deaths of people who are euthanized at age 50. She escapes her dystopian world and discovers a thriving society based on the more noble aspects of human nature. It's an adventure story with elements of science fiction and romance.
"I wanted people to get so lost in the story that they don't even notice the message until they finish the book and reflect on it," Tsalaky said. "But it's meant to be a parable of the choice point our world now faces."
From the reviews that are already piling up, she achieved her objective.
"Tsalaky takes us into a plausible future that is both frightening and inspiring. The story is prophetic, for we see the struggle in our world between self-destruction and sustainability. What future will we choose?" wrote Gloria Piper, who, like most of the reviewers, gave it five stars.
This type of fiction – which envisions the future and tries to inspire people toward creating the best one possible – was popularized in the 1990s by James Redfield's The Celestine Prophecy, which sold more than 20 million copies.
Very few authors have been able to create successful books in the genre, according to book blogger P.J. Swanwick. "The problem is that few novels manage to combine a truly compelling story with spiritual principles," she wrote. "Many are fictionalized memoirs that fail to incorporate the fundamentals for a good novel: A great story and engaging characters."
That's why Tsalaky's book has made a splash right out of the starting gate, said reader Chris Montanaro. "Real literature with an esoteric theme is very rare," he said. "But the The Transition Witness is so well written that I believe it will finally allow visionary fiction to come of age."
You can read more or buy the book here: Visionary Fiction
http://www.amazon.com/Transition-Witness-1-Breathe-Metaphysical-Visionary-ebook/dp/B00KWM4BMO
http://facebook.com/visionaryfiction
Sources: