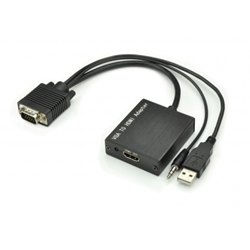 (PRWEB) July 23, 2014
Hiconn Electronics, a well-known electronics accessory supplier, has recently revealed its new range of VGA with Audio to HDMI Converters. To top it all, all these practical products are now available at discounted prices, up to 25% off. According to the company's marketing specialist, distributors from all over the world can enjoy this special offer from today until July 31.
The marketing specialist states, "We are excited to launch the VGA with Audio to HDMI Converter promotion for new and old customers. All our top specialists have been working in the electronics industry for a long time. Most of our items are popular among the global clients; this is why I have confidence in the new converters. You can certainly trust us. What's more, the special offer will last for a short time. If you are in need of cheap VGA with Audio to HDMI Converters, just visit our website now."
The following are some details of the company's VGA with Audio to HDMI Converters:

Aluminum shell for better cooling capabily
Compliant with HDMI 1.3
VGA input: 640*480@60Hz, 800*600@60Hz, 1024*768@60Hz, 1280*720@60Hz, 1280*768@60Hz, 1280*800@60Hz, 1280*1024@60Hz, 1360*768@60Hz, 1600*1200@60Hz, 1920*1080@60Hz, 1920*1200@60Hz
Audio for input – 3.5mm
HDMI output – upto 1080P
Hiconn Electronics wants to expand its market share. All the new converters in this range are made with great materials; they are very good products. On the company's one stop website, worldwide distributors can often find cheap, high quality items.
About Hiconn Electronics
Hiconn Electronics (Shenzhen Hiconn Electronics Co. Ltd.) is devoted to designing and manufacturing a wide range of connection cables and customized cable assemblies, offering many HDMI cables, VGA cables, SATA cables, USB cables, 1394 cables, DVI cables, SCSI (Small Computer System Interface) and more. For more information, please visit http://www.hiconn.net/.
Contact Person: James Yin (Sales Director)
Company Name: Shenzhen Hiconn Electronics Co., Ltd.
Address: Shenghua Building., Xixiang Road., Baoan District, Shenzhen, Guangdong Province, China
Zip Code: 518102
Tel: +86-755-8109 8345
Fax:+86-755-2779 3497